Model NMR-872 & NMG-115
In industries such as the chemical and pharmaceutical sectors, even the slightest temperature excursions could spell disaster. A few degrees in either direction could spoil your product or even, in the case of certain hazardous chemicals, generate an exothermic reaction.
For the safety of your cargo and those who transport them, bulk chemical transport containers with reliable temperature control, especially when transporting chemicals or high-value goods by sea, are an absolute must-have.
You owe it to your distributors, your customers, and your business to use the most reliable and safest transport containers for the chemicals and other products you ship, which is why so many companies across so many industries turn to Klinge for their chemical and other dangerous goods transportation. Our dual refrigerated and dual genset container units are the perfect choice for many chemical or high-value shipping applications for a number of reasons, including:
Two full capacity reefer units offer total redundancy — each reefer has their own thermostat and control circuit
Two generator sets offer total redundancy — each genset capable of powering the reefer units
Complies with international regulations for the transport of dangerous goods
Provides the ultimate protection with two reefers & two gensets
Klinge's Dual Refrigerated Dual Genset Container has two full capacity reefer units. The dual refrigeration system, Model NMR-872, and generator sets, Model NMG-115-11, automatically switches to its back-up in an emergency to provide the ultimate peace of mind when shipping hazardous cargo or valuable cargo.
This type of redundancy is critical when transporting chemicals by sea, when a failure may not be able to be attended to right away. In a situation where the temperature rises above an acceptable level, a single unit refrigeration transport with no redundancy could mean the destruction of your shipment and/or a potential explosion or release of hazardous chemicals. Similarly, a power failure without a backup generator could lead to a breakdown in the integrity of your product.
Reliable, redundant refrigeration and power systems dramatically reduce the likelihood of such a situation occurring, meaning you can ship your goods more frequently and with confidence, with significantly fewer worries about lost product or safety breaches.
The dual refrigeration system complies with the International Maritime Organization's regulations for transporting certain Dangerous Goods.
Klinge refrigerated transport containers have been used successfully across a wide variety of industries for some of the most sensitive transportation jobs. For example, Klinge's Dual Refrigerated & Dual Genset Containers have been used to transport millions of dollars of ice cores from Antarctica across the equator, and through the southwestern United States.
Using Klinge's equipment, the ice cores were not permitted to drop below -20°C at any point during their 1.5-month travel. Otherwise, some of the most critical research related to analysis of the gases contained in the cores would not have been possible.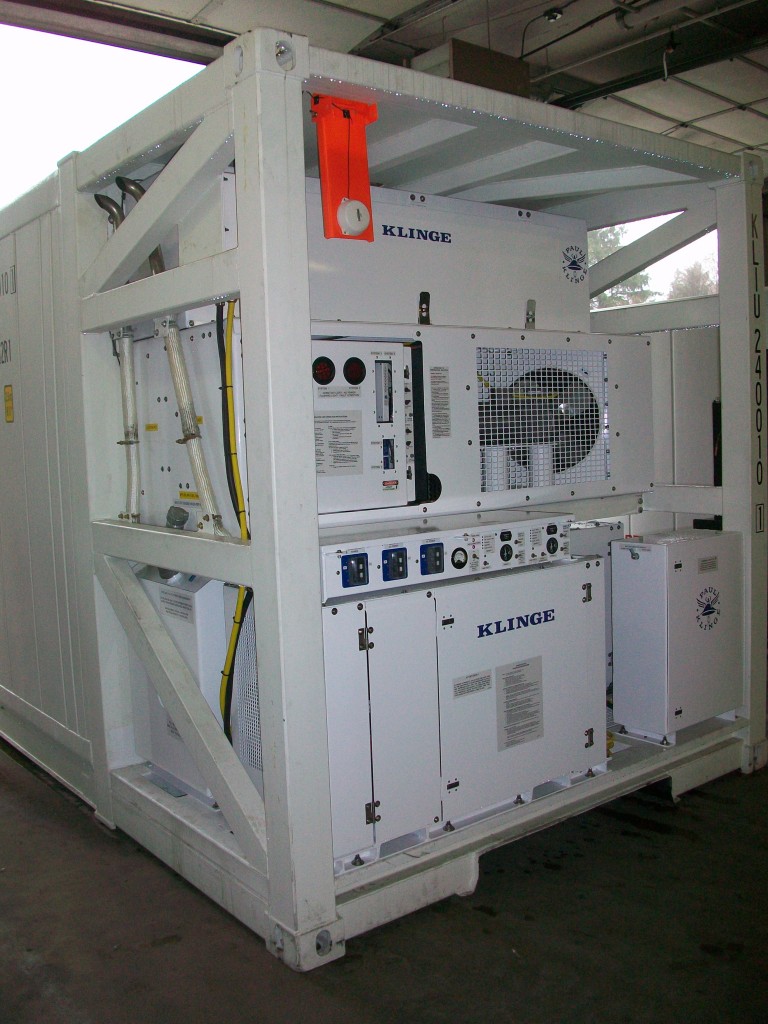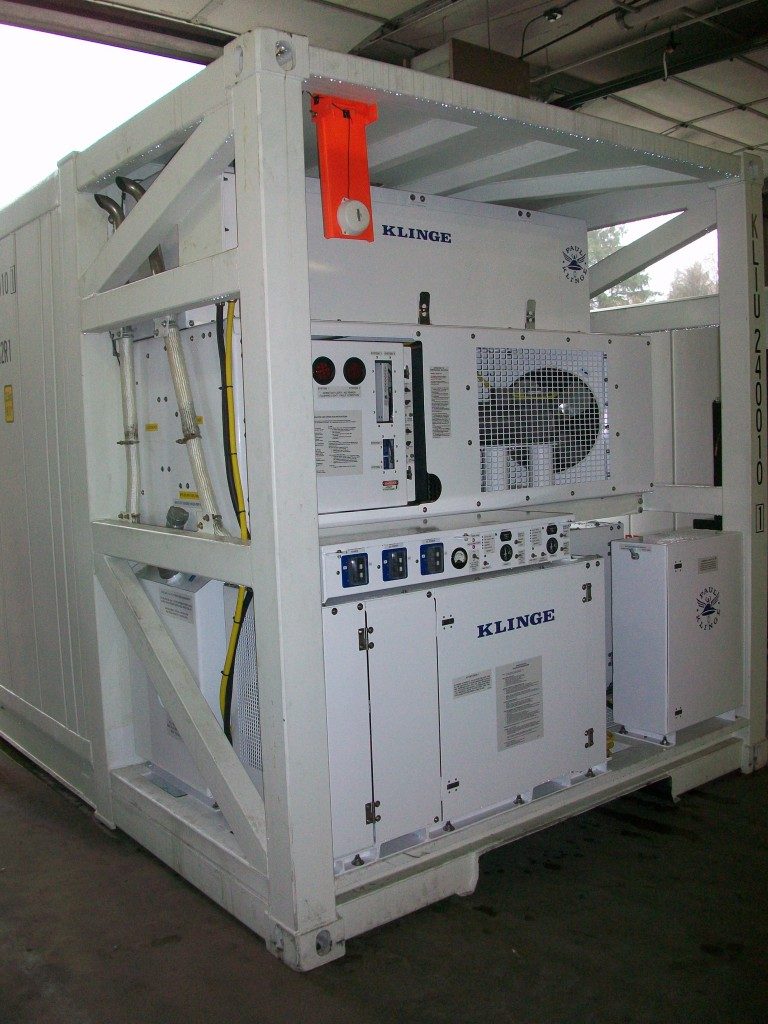 Additional Features of the Dual Refrigerated & Dual Powered Container (Model NMR-872 & NMG-115-11)
A dual refrigerated container will not help you or your business if it does not have sufficient power to maintain the required temperature throughout the product's journey. That is why our unit has a range of reliable power supply features, including:
Generator set starts automatically when shore power is not available
Generator set operates in outdoor ambient from -50ºC to +50ºC (-58ºF to +125ºF)
Single fuel tank automatically supplies fuel to each generator as needed
Fuel tank holds enough fuel for 3 days of continuous operation under full load
Common, double-walled fuel tank for leak containment
Additional Safety Features
Global System for Mobile Communication (GSM) – This unit features a three temperature sensor transmitter mounted inside the frame to protect it from damage and charged by the refrigeration battery charger whenever it is plugged in. GSM data services are provided globally, with the unit storing information when out of cell tower range for immediate transmission once back in range. The provided web interface allows end-to-end temperature and location monitoring based on a redundant cloud platform with no operating software or server required.
Satellite communication tracks location, monitors box & ambient temp, and alarm condition.
Large alarm strobe & powerful alarm horn for each reefer unit
Round-the-clock notification and problem-solving services
Electronic datalogger with backup alarm and printer
Large battery charger for alarm, datalogging and satellite systems
ADDITIONAL CHEMICAL REFRIGERATION OPTIONS:
OTHER HELPFUL RESOURCES: