Refrigerated Transport Containers for the Chemical Industry
Chemical transportation is a difficult and dangerous task without the proper refrigerated transport units. Improper storage of chemicals can have disastrous consequences if not kept at a properly controlled temperature. Safety issues and loss of cargo could occur which can be enormously costly to any company.
Additionally, an exothermic reaction can occur if chemicals, such as organic peroxides (IMDG 5.2) and self-reactive substances (IMDG 4.1), are not maintained at the correct temperature.
Exothermic reactions describes a process that releases energy from the system. The concern for some chemical goods is that when the energy is released in the form of heat whereby a spark, flame, or explosion could occur.
With the high risk of losing cargo or an explosion if certain chemicals, like organic peroxides and self-reactive substances, are not kept at the required temperature, companies turn to Klinge for a safe and reliable transport solution. Fill out the form or call +1 717-840-4500 to learn more.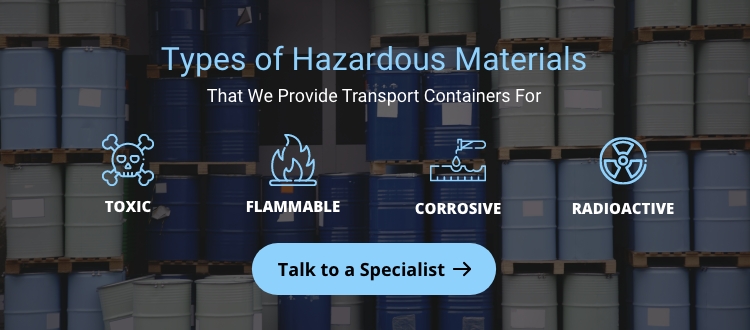 Understanding the Procedures for Transporting Hazardous Chemicals
A hazardous material is defined as any substance that could cause harm to living things — and that encompasses many of the chemicals used in the manufacturing process. These materials can be toxic, flammable, corrosive, radioactive, or pose some other form of danger, and these are the chemicals that comprise the majority of chemical transportation. Having an understanding of safe chemical transportation procedures is essential for avoiding an accident or incident that could put lives at risk. Guidelines for the safe transport of chemicals include:
Do not ship hazardous chemicals with other materials that could facilitate a reaction that leads to a fire or explosion. Examples include certain types of food, water or other chemical substances.
Follow all guidelines pertaining to the mixing of several hazardous chemicals within the same ship. It is imperative to keep certain types of chemical materials separate to prevent a potentially dangerous reaction.
Make sure all hazardous materials are properly secured on or within the vehicle during transport to prevent them from shifting or falling off. Some chemicals are extremely volatile and movement could create an explosion. Unsecured chemicals could also cause the container to rupture and leak.
Be certain the vehicle has appropriate signage to alert drivers, passengers, material handlers and others of the possible dangers.
Be sure that all drivers in your chemical transportation fleet are properly licensed and have received comprehensive training for handling hazardous material-related emergencies.
Drivers should also maintain adequate records regarding the type and quantity of chemicals they are transporting and provide and receive the appropriate paperwork upon delivery.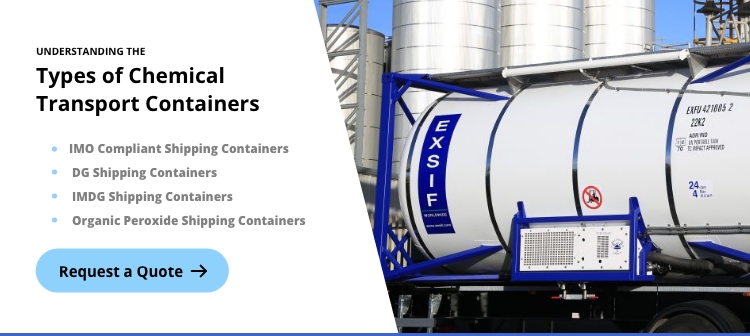 Understanding the Various Types of Chemical Transport Containers
There are also multiple types of refrigerated chemical transport containers available. It is important to choose a container that is compatible with the chemicals you plan to ship:
IMO compliant shipping containers: The International Maritime Organization is a United Nations-affiliated agency that promotes maritime safety. IMO-compliant transport containers must meet stringent requirements in accordance with the International Convention for Safe Containers of 1972 regarding areas such as testing, inspection, maintenance and structural modification of containers.
DG shipping containers: Dangerous goods shipping containers offer the same advantages of standard containers but feature advanced technology to ensure the safe storage and transport of hazardous materials. Examples of substances that are compatible with DG shipping containers include paint thinners, liquids, oils, diesel fuel, flammable materials and various chemicals.
IMDG shipping containers: The International Maritime Dangerous Goods Code is the global standard for shipping hazardous materials by sea and covers areas such as packing, stowing and container traffic. The IMDG code also specifically addresses the proper segregation of incompatible materials. The use of an IMDG refrigeration unit will help ensure compliance with this standard when transporting chilled materials that are classified as dangerous.
Organic peroxide shipping containers: An organic peroxide is a carbon-containing compound (solid, liquid or paste) containing two oxygen atoms that are joined together. Organic peroxides present a significant fire and explosion hazard. The IMDG addresses the safe transport of organic peroxides, particularly the need to segregate them from other materials to avoid a potentially deadly reaction.

Safe & Reliable Transport Solution for Organic Peroxides, Self-Reactive Substances, and Other Chemicals
Klinge offers many transport refrigeration and heating equipment especially for the chemical industry. This includes:
The Dual Refrigerated Container complies with the International Maritime Organization's regulations for Dangerous Goods transport. Specifically, the Dual Refrigerated Container meets the IMO's requirements for transport of IMDG 5.2 (organic peroxides) and IMDG 4.1 (flammable solids, self-reactive substances and desensitized explosives).