Model CBU-30
Klinge Corporation's Portable Blast Freezer Container is primarily used for the quick freezing of yellowfin tuna, other high-value seafood and meat. Our picture frame style blast freezer unit is designed for freezing cargo to -60°C (-76°F). It is mounted to 20' or 40' ISO containers or trailer bodies.
More and more companies are using lower temperature freezing machinery to transport high value seafood and meat. This is because blast freezing means substantially reduced transportation costs as the fish can be transported by container ship rather than air freighted.
The CBU-30 Portable Blast Freezer is unique in that its evaporator fan draws air through the load to ensure even temperatures throughout the load. Many standard units are not equipped with an evaporator fan system designed to accommodate cargoes with high-pressure drops.
Without the special design, airflow would be reduced and the blast freezing process would take considerably longer. Contact a Klinge Group Specialist Today!
Photo Of Portable Blast Freezer Unit (Model CBU-30)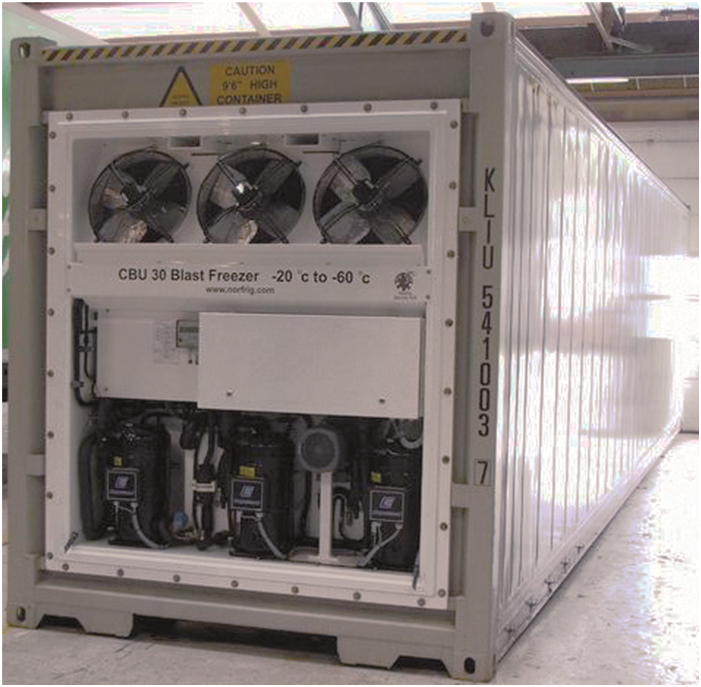 The CBU-30 Is the Ideal Blast Freezer Container for Pharmaceuticals
In addition to serving the needs of the meat and seafood industry, our portable blast freezers offer an excellent solution for the safe transport of pharmaceuticals such as vaccines, biologics and blood plasma. These materials are vulnerable to extreme temperatures. Prolonged exposure to temperatures above 45-50ºC, for instance, can cause changes in the physical characteristics of the aluminum compounds found in diphtheria vaccines.
Exposure to freezing temperatures can also have a negative impact on vaccines. There is a significant difference between storing a DTP (diphtheria, tetanus and pertussis) vaccine at a sufficient temperature and one that is too cold. Although these vaccines must be stored below 0ºC, excessively cold temperatures can cause these vaccines to lose their potency. The loss of potency is exacerbated during extended freeze-thaw cycles.
The temperature range of the CBU-30 portable blast freezer unit (-20ºC to -60ºC) is ideal for accommodating most vaccines, biologicals and blood plasma products. The blast freezer container will also promote consistent cargo temperatures throughout the journey. Additionally, the CBU-30 can ensure compliance with the stringent World Health Organization Standards regarding the Class A, Class B and Class C insulated packing standards.
Another consideration when transporting vaccines is adhering to the WHO standards regarding the use of monitoring devices to ensure the temperature remains within acceptable limits throughout the shipping process. The guidelines stipulate that recipients should not accept a shipment if they are unable to verify that the limits have not been exceeded. Our portable blast freezer units include built-in temperature monitoring equipment that provides instant notification whenever significant changes in the temperature levels occur.
Finally, the CBU-30 blast freezer unit provides the convenience that pharmaceutical manufacturers and distributors require. You can easily load them in containers for ocean shipping or in trailer bodies for over-the-road transport. This gives manufacturers maximum flexibility for selecting the shipping method that best meets their cold chain logistical requirements as well as the needs of the customer.
Features of Portable Blast Freezer Unit (Model CBU-30)
» Designed for freezing cargo from -20ºC to -60ºC (-4ºF to -76ºF).
» High capacity ideal for freezing meat and seafood.
» Full Airflow: Even in loads with a very high cargo internal pressure drop.
» Unique Design: Many standard units are not equipped with an evaporator fan designed for cargos with high pressure drops.
» Even temperatures throughout cargo.
» Efficient Airflow: Evaporator fan and adjustable ceiling provides efficient airflow control, which is essential for quickly lowering cargo temperature.
» Convenience: Blast freezers can be used in containers or trailer bodies.
CBU-30 Ceiling:
The new and improved CBU-30 false ceiling allows for even faster blast freezing by ensuring that the
maximum airflow is pulled across your cargo. This ensures quicker cooling and less overall power use
Product Specification Available Upon Request.
Klinge Corporation: A Leading Blast Freezer Unit Manufacturer for More Than 30 Years
Whether you need a high-quality portable blast freezer for the transport of meat/poultry products or pharmaceuticals, you can trust Klinge Corporation to provide the reliable solution your company needs. Klinge has more than 30 years of experience in meeting the refrigerating shipping container requirements for companies across a broad cross-section of industries. Contact us to learn more about the benefits of using the CBU-30 for your transportation needs or to receive a no-obligation product quote today.