Model NMR-262
» Two full capacity reefer units offer total redundancy—each reefer has their own thermostat and control circuit
» Complies with international regulations for the transport of dangerous goods
» Integral genset powers reefer units when shore power is not available
Why You May Need Dual Refrigeration for Shipping Chemicals
You probably rely on built-in redundancies in many aspects of your operation. Backup generators supply the electricity that keeps your business running in the event of a power failure. Your computer network is equipped with redundant systems to prevent interruptions that could bring your systems to a standstill. You may even cross-train members of your staff so that one worker can easily fill in for another during vacations and extended absences.
If your business involves the manufacturing or distribution of chemicals and you depend on refrigeration units to keep them at the appropriate temperature, a malfunctioning refrigeration unit could have devastating consequences. A dual refrigeration unit gives you additional protection if one reefer unit fails. This can be critical for chemicals that are susceptible to spoilage if they're not chilled.
What Causes Refrigeration Units to Break Down?
There are several reasons a refrigeration unit could fail. Neglecting to pre-cool a chemical prior to placing it inside the unit could cause it to work harder to maintain the desired temperature. The additional strain may eventually cause a breakdown. An improperly maintained reefer container could lead to excessive wear on the parts and eventually cause the unit to fail. A road accident could also disable the reefer, which could result in cargo spoilage.
Even if you carry cargo insurance, it may not necessarily cover every potential cause of a breakdown and it won't do much to satisfy an unhappy customer who has to deal with a late or spoiled shipment of the chemicals they need to manufacture their products. You can avoid the hassle altogether by utilizing one of our dual refrigerated containers from the start.
Exploring the Many Benefits of a Dual Redundant Refrigeration Unit
A dual redundant refrigeration unit is highly recommended when transporting dangerous or temperature-sensitive cargo. A dual refrigeration system consists of a primary and back-up unit. While both are fully functioning reefers, the secondary unit only kicks in if the main unit fails. The automated operation of the system eliminates the need for manual intervention, which prevents a time lapse that could cause product spoilage. Diesel generators typically serve as a reliable power source for both units.
As a chemical manufacturer or supplier, a dual redundant system can have a huge impact on the success of your business. You will experience a reduction in spoiled or damaged product that could hinder your ability to retain customers and grow your operation.
Using dual reefers are also an important loss prevention step. You will dramatically reduce the costs associated with having to take back and dispose of spoiled chemicals. At a time where businesses must find ways to reduce expenses to remain competitive, a dual redundant refrigeration unit can bolster your cost containment efforts and have a positive impact on your company's bottom line.
Klinge Corporation: Your Source for High-Quality Dual Refrigeration Containers You Can Count On
Klinge's Dual Refrigerated Container has two full capacity reefer units. The dual refrigeration system, Model NMR-262, automatically switches to its back-up in an emergency to provide the ultimate peace of mind when shipping hazardous cargo or valuable cargo. The system complies with the International Maritime Organization's regulations for transporting certain Dangerous Goods. It is used for products between 8ºC (46ºF) and -25ºC (-13ºF).
The Dual Refrigerated Container is available with a diesel generator set, Model NMG-115, to ensure complete and independent protection of the cargo. The self-powered generator set powers the refrigeration units in case of loss of external power supply or during transport on a truck.
Klinge's line of Dual Refrigerated Containers are used to transport hazardous chemicals, resins, adhesives, pharmaceuticals, ammunition and other goods requiring extra protection. No matter what type of cargo you ship, you can have confidence that you'll be able to keep it at the proper temperature throughout its journey.
Klinge has been providing this model to major chemical and pharmaceutical companies around the world for over 30 years.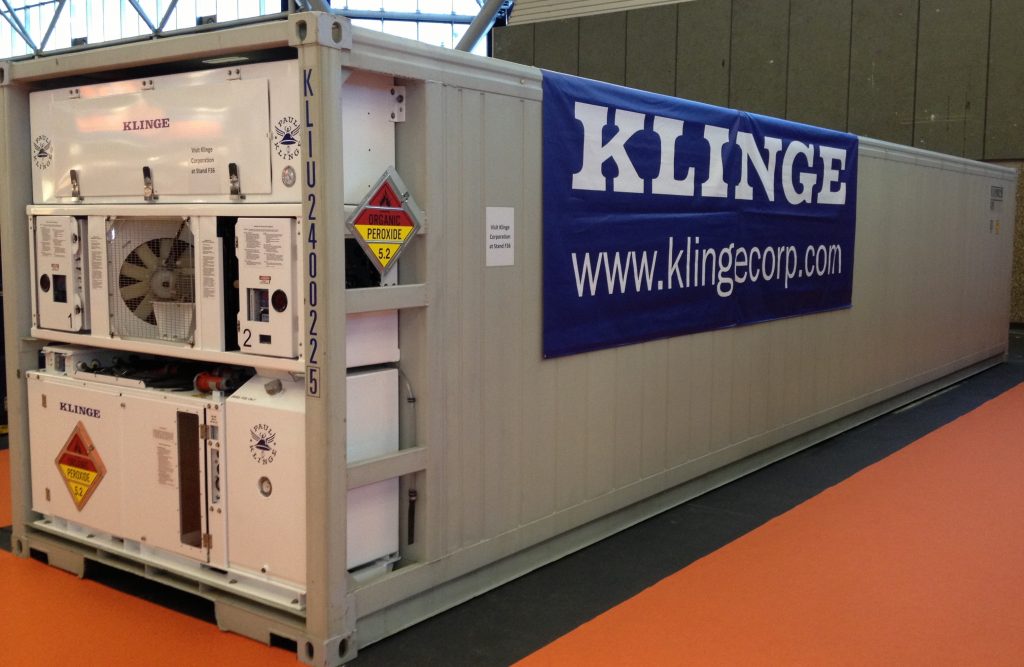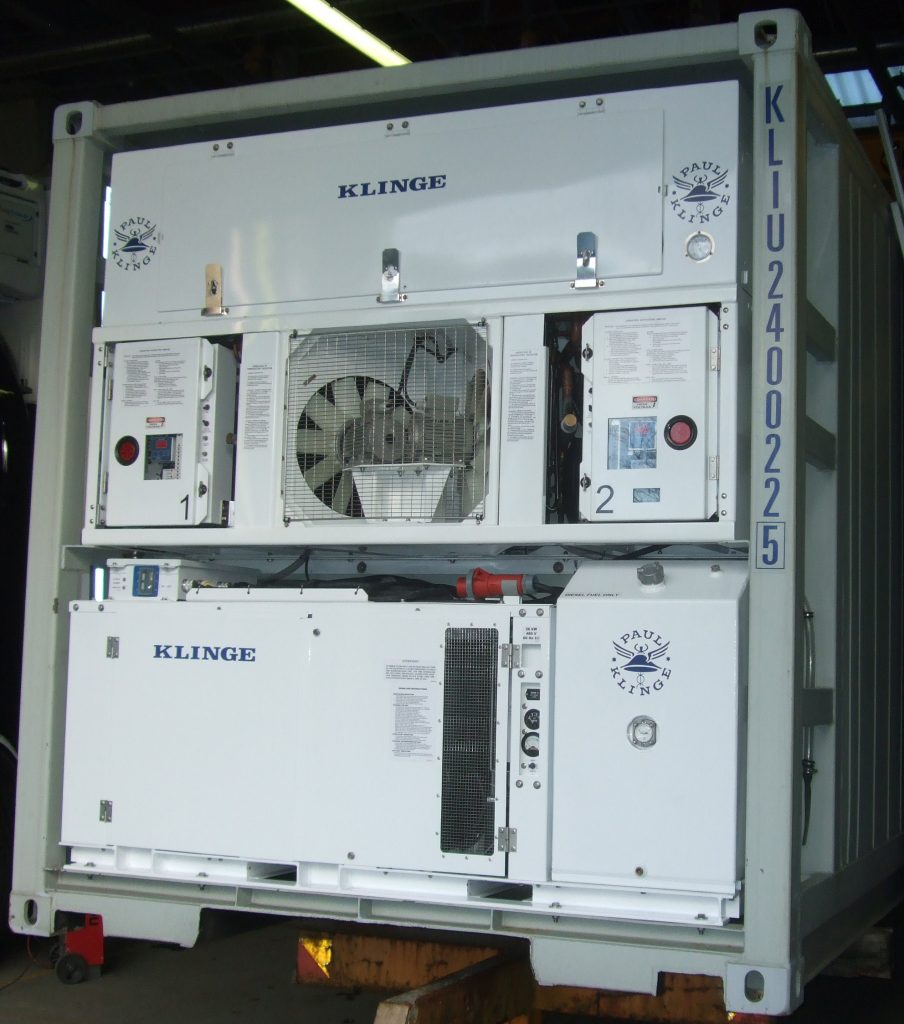 ADDITIONAL FEATURES:
» Total Protection—Two complete and separate refrigeration systems, each with their own thermostat and control circuit. Each system communicates with the other, activating the back-up in case of failure! CE-marked for use in Europe and throughout the world.
» Built-in High-temperature alarm & available independent "High-High" temperature alarm.
» Added Security Measures: The control panel is PIN-enabled, while the control box is Padlock enabled and access is prevented without the necessary tools.
» Updated display technology allowing additional parameters (pressure, Hz, etc) to be viewed directly at the unit.
» Built-in current monitoring for increased capacity, performance, and failure detection.
» New, high-efficiency evaporator and condenser coils with additional pressure-regulation allow the unit to run optimally at all temperatures.
» Durable plastic evaporator/condenser fan blades reduce noise and increase performance.
» Programmed to switch between primary and back-up unit to equalize run-time.
» Cargo area includes Zone 1-rated evaporator motors (T4) for increased safety as well an option for increased heating capacity.
» Components in the evaporator section are explosion-protected in accordance with the EX G3 norm (UL Class 1 Group D).
» All components, except evaporator coil, are serviceable from the front of the unit.
» Easy access to all components in electric box door (also fitted with "lift-off" or "slip" hinges)
SPECIFICATION FOR THE DUAL REEFER SYSTEM (MODEL NMR-262)
» Dimensions: W 2108 mm, D 546 mm from back of flange, 650 mm overall, H 1262 mm
» Weight: 654 kg
» Designed to operate on: 460 Volt A/C +/- 10% 3 Phase 60Hz +/- 2.5%, 380 Volt A/C +/- 10% 3 Phase 50Hz +/- 2.5%
» Compressors (qty 2): Copeland / Bitzer using R404A Refrigerant
» Net cooling capacity at 37.8°C ambient temperature at 60 Hz power
» Return Air Temperature: -17.8°C
» Net Capacity (1 of 2 Systems): 4890 Kcal/h / 19,500 BTU/hr
OPTIONS:
» Remote monitoring of the equipment via direct cable link to the control box.
» Satellite communication system for the remote monitoring of the GPS Location, Cargo Temperature, Alarm Indication and AC Power Status.
» GSM communication system allowing for remote dial-in of service technicians, data transfer, event and temperature monitoring. Alarm notification via text or email also available separately.
» Additional oil filter increasing capacity to more than 1000 hours between oil changes.
» Integral spare parts box (for components that may need to be replaced over time and for service manual).
» Special dual voltage transformer enables refrigeration units to also operate on 220 volt 3 phase power.
» Other options: lighting, back-up independent alarm system via external datalogger, air curtains, side door, and shelving.
SPECIFICATION FOR GENERATOR SET (MODEL NMG-115)
» Generator set is designed to operate in ambient temperatures from -37°C to 50°C
» Dimensions: W 2114 mm, D 610 mm, H 937 mm
» Weight: 762 kg with fuel; 604 kg without fuel
» Construction: Stainless steel hardware and frame made of seawater-resistant aluminum in order to provide a high degree of corrosion protection
» Engine: Type – Isuzu Diesel 4-cylinder liquid cooled with glow plug assisted start
» Generator Set: Type – Marathon Electric LIMA® MAC Type
» Fuel Tank: 197 l fuel tank for approximately two days (48 hours) of operation under full load
ADDITIONAL CHEMICAL REFRIGERATION OPTIONS:
OTHER HELPFUL RESOURCES: