Model NMR-171 & NMG-112
» Multi-temperature refrigeration offer separate freezer and fridge sections
» Moveable bulkhead separates two refrigeration zones
» Integral diesel generator set
» Designed and qualified to military standards
Klinge Group's 20ft Military Refrigerated Container offers multi-temperature zone refrigeration. The system has a moveable bulkhead to allow for separate fridge and freezer zones. The Military Refrigerated Container is equipped with a diesel generator set that powers the refrigeration unit during transport or food distribution in the field. Contact a Klinge Group Specialist Today to learn more!
The 20ft Military Refrigerated Containers are designed and qualified to a multitude of military tests including: Vibration, Category A1 and B2 Cooling, Category C0 Cold Climate, Driving Rain, Salt/Corrosion, and Power Source/Fuel. Klinge's military grade shipping containers have established themselves as the best containers on the market through years of improvement to design and development to adhere to the strict standards required by the defense industry.
Klinge Group's Military Grade Containers have been used by Armed Forces around the world for the storage and transport of food, ammunition, and medicine. Klinge Group's military customers include the U.S. Military, United Nations, Danish Military, Australian Defense Force, Hungarian Military, and Austrian Military.
Photo of the 20FT Military Refrigerated Container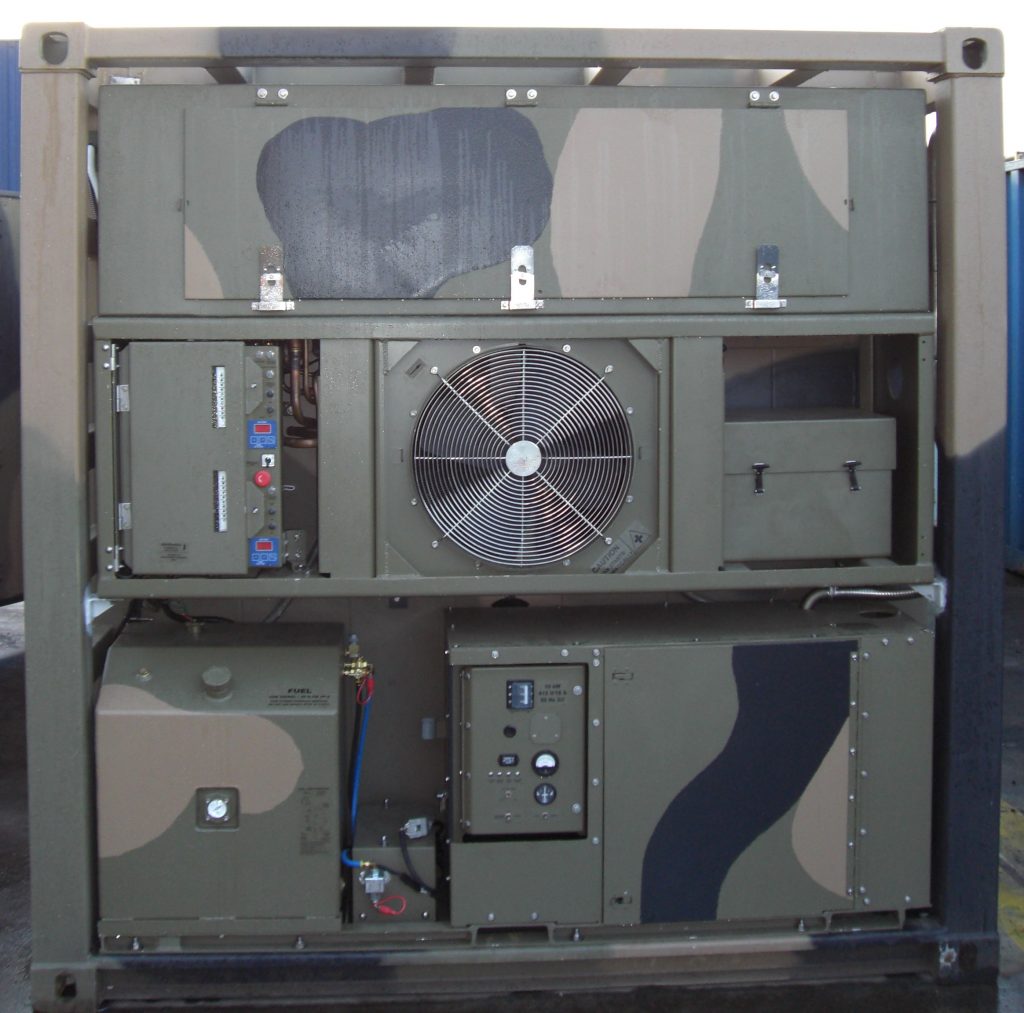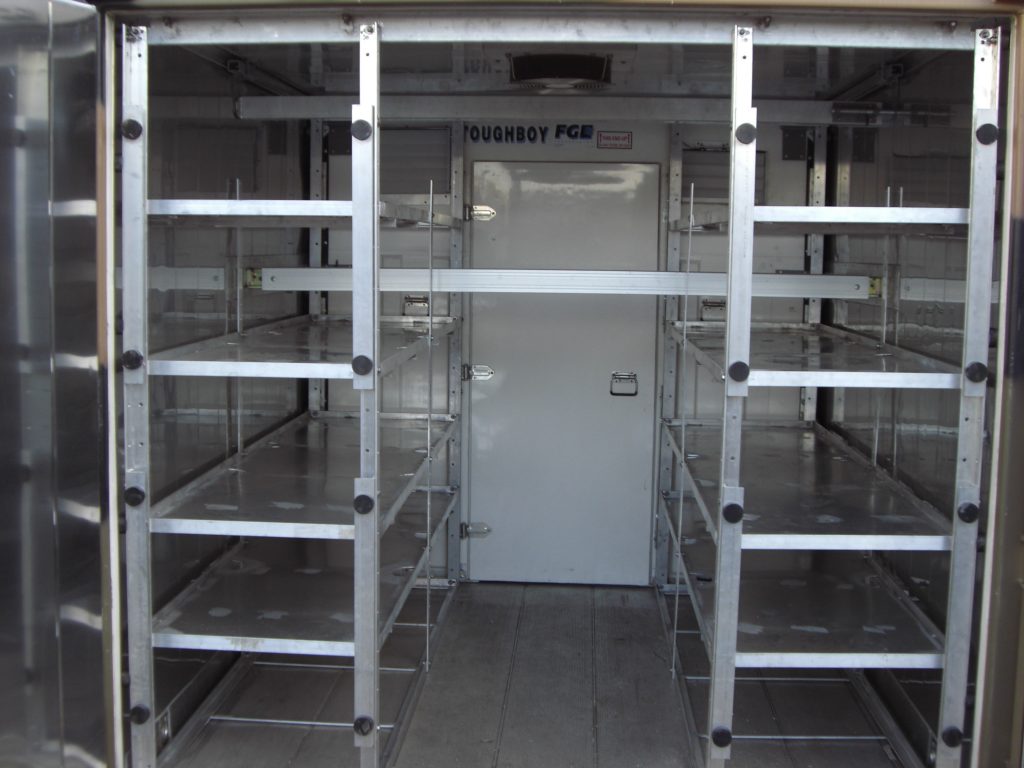 Additional Features of the 20FT Military Refrigerated Container
» Multi-temperature refrigeration offering separate freezer and fridge sections.
» Moveable bulkhead can be stowed in either direction.
» Genset powers the refrigeration unit during transit or food distribution.
» Reefer unit and genset are separate units and can operate independently.
» Alarm system with blackout lighting in tactical mode.
» Easy operability—designed for use by cooks & soldiers.
» OPTIONS: Shelving, Dual voltage, air curtains, datalogger, GSM, and satellite communication system.
Our Refrigerated Military Transport Containers Comply With Stringent Standards
A military refrigerated container from Klinge meets the test specifications of the military and defense industry in several critical areas:
Vibration testing – Our military reefer units comply with test requirements regarding vibration. One example is the Department of Defense's STANAG 4242 guideline that applies to munitions carried via tracked vehicles. This standard ensures weaponry and ammunition transported in this manner is housed in containers that are resistant to impacts and vibrations that could cause an explosion while on the road. Our solidly constructed containers will prevent excessive vibrations from affecting the cargo and leading to a potentially deadly situation.
Category A1 and B2 cooling – There are several categories related to equipment testing at temperature and altitude. Our refrigerated military shipping containers meet the A1 requirements that apply to equipment installed in a controlled temperature and pressurized location on an aircraft where pressures typically do not extend below the altitude equivalent of 15,000 feet. Our containers also meet the B2 category guidelines pertaining to equipment installed in non-controlled temperature and non-pressurized environments on aircraft flown at altitudes up to 25,000 feet.
Driving rain testing – Many building owners are replacing traditional roof cladding with photovoltaic (PV) modules to make the transition to solar power. These modules must be able to withstand heavy rains to ensure a tight seal that minimizes the risk of leakage. Our military transport refrigeration containers will protect the modules during shipping to help them comply with the driving rain testing standard.
Experience the Benefits of Using a Container That Can Function as a Fridge and Freezer
Do the refrigerated containers you're currently using offer the convenience and flexibility to function as a refrigerator and freezer simultaneously? Our military-grade refrigerated transport containers have separate freezer and refrigerator compartments with a moveable bulkhead between the two areas. This provides the advantage of zone refrigeration that enables the manufacturer or distributor to ship multiple products at varying temperatures.
The ability to separate refrigerated products in this manner minimizes the risk of cross-contamination, which can occur when disease-carrying microorganisms are transferred from one product or surface to another. Cross-contamination is a major concern in the food industry. Exposure to microorganisms can cause spoilage or illness in individuals who consume tainted food products.
Meat and poultry companies can use our military-grade shipping containers to keep their fresh or raw products away from other materials that may carry harmful bacteria — and also allow them to maintain a safe temperature throughout the journey.
You Can Trust Klinge Corporation for All Your Refrigerated Container Needs
Whether you're transporting military equipment, food, pharmaceuticals or anything else that requires refrigeration, you can count on Klinge to have the right container for the job. Our more than 30 years of expertise enables us to design and manufacture high-quality containers at competitive prices. Custom solutions are also available for companies that face unique shipping container challenges.
Contact Klinge today to learn more about how a multi-temperature refrigerated container system can benefit your operation. We'll also be happy to provide a no-obligation quote.
Fill out the form or call +1 717-840-4500 to learn more. If you already know what you need, you can Request a Quote or Request Service from Klinge Group today!
Additional helpful resources: