Klinge's Military Containers have been used by Armed Forces around the world for the storage and transport of food, ammunition, and medicine. Klinge's military customers include the U.S. Military, Australian Defence Force, Swedish Defence Force, Bangladeshi Military (for United Nations peacekeeping mission), Hungarian Military, Danish Military, and Austrian Military. Our military-grade containers are designed to meet the strictest defense standards making them some of the best military containers on the market.
Please note that the systems shown on this site are demonstrative of Klinge's capabilities, but are often designed specifically for certain allied forces and may require changes both in design and technical documentation for other applications, resulting in longer lead times.
Talk to a Klinge Corp Specialist to learn more about Klinge's specialized military shipping container designs for the defense industry.
Military Transport Refrigeration Containers: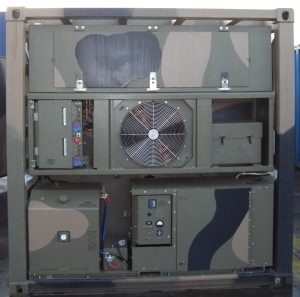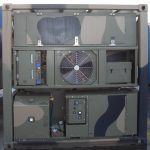 20ft Military Refrigerated Container with Genset
» Multi-temperature refrigeration offering separate freezer and fridge sections.
» Moveable bulkhead to separate two temperature zones and can be stowed in either direction.
» Genset powers the refrigeration unit during transit or food distribution.
» Qualified to a number of military tests including Vibration, Category A1 and B2 Cooling, Category C0 Cold Climate, Driving Rain, Salt/Corrosion, and Power Source/Fuel.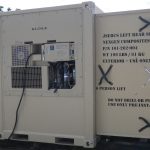 Expandable Triple Container Refrigeration Unit
» Refrigeration unit provides dual temperature refrigeration in ambient temperatures ranging from -25°F to +125°F.
» Triple Container (Tri-Cont) system expands from 1/3 the size of a normal 20′ container to nearly the full size of a 20′ container.
» Temperature, cooling capacity, and power consumption of the reefer unit will be tested at a government facility in accordance with MIL-PRF-32335.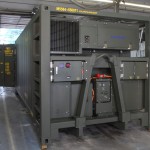 Military Refrigerated A-Frame Container
» Functions as a freezer or refrigerator.
» Maintains cargo between -20ºC (-4ºF) to +20ºC (+68ºF).
» Contains self-powered generator set for independent protection of the cargo.
» Special hook frame container.
» Meets the requirements of mobility testing in accordance with AECTP 400 to ensure the system can withstand transportation on roads of poor quality.
» Meets the requirements of Radiated Emission testing in accordance with MIL-STD-461F, RE102 as well as Radiated Susceptibility testing in accordance with MIL-STD-461F, RS103.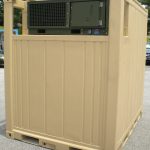 Tricon Refrigerated Container
» Single temperature refrigeration; serves as either a fridge or freezer.
» Unit is conveniently one piece. The condenser and evaporator sections are housed in the same section.
» 3 tricons have footprint of 20ft container.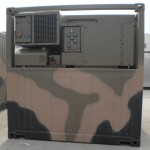 10ft Military Refrigerated Container
» Single temperature refrigeration; serves as either a fridge or freezer.
» Genset powers the reefer unit during transit or food distribution in the field.
» Genset can power two 10' reefer units in emergency or during maintenance.
» Qualified to a number of military tests including Vibration, Category A1 and B2 Cooling, Category C0 Cold Climate, Driving Rain, Salt/Corrosion, and Power Source/Fuel.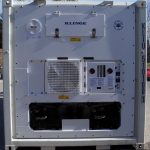 Military Air Conditioning Unit
» Regulates room temperature in extreme ambient temperatures.
» The A/C Unit is mounted in the machine room to keep computer server equipment or radar


Benefits of Our Military Transport Containers
Our military shipping containers offer numerous benefits during transport and for the safe storage of products after the shipment has arrived at its destination:
Food
The military relies on the Meal, Ready to Eat (MRE) to keep troops serving in areas that are out of range of regular mess facilities well-fed and properly nourished. The current MRE menu consists of a diverse selection of items such as chicken with egg noodles and vegetables, beef tacos, meatballs in marinara sauce and chili and macaroni. Our military reefer containers can keep these products at the appropriate temperature during shipping to prevent contamination and spoilage.
Additionally, our military refrigeration units can extend the shelf life of MREs. Storage temperatures have a direct impact on the shelf life of all MRE menu items. For example, a storage temperature of 120°F results in a shelf life of only one month. As the storage temperature decreases, the shelf life increases accordingly. Refrigerating the MREs in one of our military refrigerator containers will deliver the maximum shelf life in even the most challenging environmental conditions such as those found in desert nations like Iraq and Afghanistan. This ensures that the troops will always have access to a high-quality, safe food supply no matter where they're stationed or conducting military operations.
Ammunition
Temperature will have little impact on ammunition under normal conditions. However, extreme temperatures can adversely affect the ammo's performance and reliability. For instance, gas will begin to seep out of ammo cartridges when the temperature exceeds 125°F, which can ultimately lead to inaccurate firing. High humidity can also cause metal ammunition cartridges to corrode over time. Freezing temperatures can alter the ballistic performance of bullets and negatively impact accuracy.
Military temperature control units from Klinge Corporation can serve as dry storage containers that protect the ammo in all types of conditions while also helping to maintain the appropriate temperature. As an added benefit, our containers can facilitate the efficient organization of ammo and sound storage practices such as timely stock rotation. Military commanders and their troops will have the peace of mind of knowing their ammo will perform at a high level when they need it the most.


Why Choose Klinge Corporation as Your Source for Military Refrigerated Containers?
Whether you're in the market for new or used military containers, you can trust Klinge Corporation to have the right product for your needs and budget. Klinge has more than 30 years of experience in providing reliable, cost-effective refrigerated container solutions for the military and defense industry.
Our temperature-controlled military containers and Tricon containers can keep MRE and ammo supplies safe during transport and when storing the materials in remote areas. All of our containers comply with stringent military standards. We can even design and build custom military temperature control containers to your exact specifications.
Contact us to learn more about our military container product offerings today.
---