Shipping sensitive products across vast distances requires special temperature control equipment. Most often, keeping these products cold is the primary concern. However, for some items, heating is equally important.
For these applications, Klinge Corporation offers dedicated tank container heating units. Our products help you maintain precisely controlled temperatures by pumping a heat transfer fluid around your tank container's existing steam coils or wrap around plates.
Designed for demanding applications, our tank container heating units are reliable and easy to operate. Use them in food and beverage shipping, pharmaceutical transport, and more.
Our Products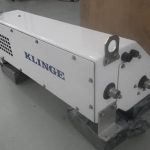 We sell two customizable heating units for tank containers:
We've listed some of the most common applications for both units below. A Klinge Corporation representative would be happy to help you assess your requirements and determine the best tank container heating system for your needs. Call or email our office to speak with a representative today.
Why Heat Your Cargo?
Heating is essential to protecting certain goods during shipment. When winter months roll in, long-term exposure to extreme cold conditions can affect items in several different ways. Manufacturers and suppliers heat cargo for the same reasons they recommend that end-users store and operate their products within a given temperature range. Food and pharmaceuticals can spoil, chemical products can freeze, and plastics can become brittle, potentially affecting their structural integrity.
Ultimately, the specifics of your application as well as the location and condition of the shipment will determine whether or not heating is required.
Common Applications
Some potential industry applications for our tank container heating units include:
Preview in new tab(opens in a new tab)
Often, manufacturers and suppliers dealing with temperature-sensitive goods will avoid shipping during extreme cold periods. This results in production delays, potential shortages, and other issues that affect their bottom line.
Investing in a Klinge Corporation tank container heating unit can help you maintain productivity year-round. For more information about the benefits of our products or to request a quote, call or email our head office today.
---
ADDITIONAL TANK REFRIGERATION OPTIONS:
OTHER HELPFUL RESOURCES: