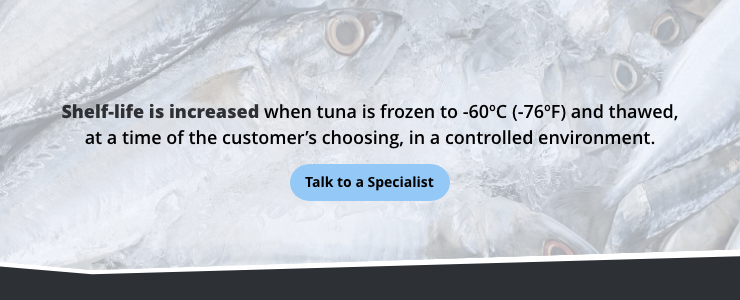 It has been well documented that a significant increase in the quality of frozen fish, shellfish, and meat can be achieved by blast freezing to an ultra-low temperature.
The shift to lower temperature freezing machinery is growing rapidly around the world. For instance, blast freezing yellowfin tuna and other high-value fish to an ultra-low temperature of -60ºC (-76ºF) substantially reduces transportation costs as the fish can be transported by container ship rather than air freight.
Tests have also shown that shelf-life is increased when tuna is frozen to -60ºC (-76ºF) and thawed, at a time of the customer's choosing, in a controlled environment.
Klinge has a complete cold chain solution to ultra-low temperature storage and frozen meat transportation. Klinge's CBU-30 system is used to blast freeze seafood and meat products, which can then be stored in the Klinge Corp's NMF-371 containerized system at temperatures down to -60ºC (-76ºF). The Quick Thaw Units, Model QTU-42, then controls the thawing at a rate that optimizes freshness and quality of seafood and meat. Read about Klinge Corp's ultra-low temperature equipment for the seafood and meat industry below.
Klinge's Cold Chain Solution for the Seafood Industry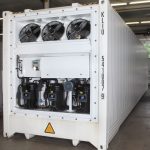 CBU-30 Blast Freezer:
Blast Freezes Cargo to -60°C (-76°F)
High Capacity: Achieves temperature during a 12- or 24-hour cycle.
Full Airflow: Large evaporator's highly efficient blower fan pulls air through loads even with high cargo internal pressure drop thus ensuring optimal heat removal from the product.
Even Temperatures Throughout Cargo: The design of the evaporator fan and adjustable ceiling that covers the cargo provide efficient airflow control, which is essential for a quick lowering of cargo temperature.
Superior Diagnostics: Amperages and pressures within our seafood shipping containers are measured & can be viewed/transferred to GSM mobile or satellite transmission modem.
NMF-371 Deep Storage Freezer:
Maintains Frozen Cargo between 0°C to -60°C (32°F to -76°F)
High Capacity: Equipped with three compressors: two for the high temperature system operating on R134a, and one for the low temperature system operating on R23. The high temperature system cools the condenser for the low temperature system.
Efficient Airflow: Evaporator fan motor and fan are designed to operate in constant ultra-low temperatures down to -60°C (-76°F). Standard motors will not hold up over time.
Optimal Design: Maximum cargo room and front access to major service components without sacrificing reliability and performance. Innovative evaporator design completes defrost in less time than competitors while also preventing heat from entering the cargo area.
Superior Diagnostics: Amperages and pressures are measured and can be viewed and transferred to GSM mobile or satellite transmission modem.
NMF-371-S Split System Deep Storage Freezer:
Maintains Frozen Cargo between 0°C to -65°C (32°F to -85°F)
Optimal Design: Designed especially for mounting in customer built-in rooms or on standard insulated containers.
Reliable Deep Freezing: Provides cargo temperature in the range from 0°C to -65°C. The unit operates in ambient temperatures up to +50°C.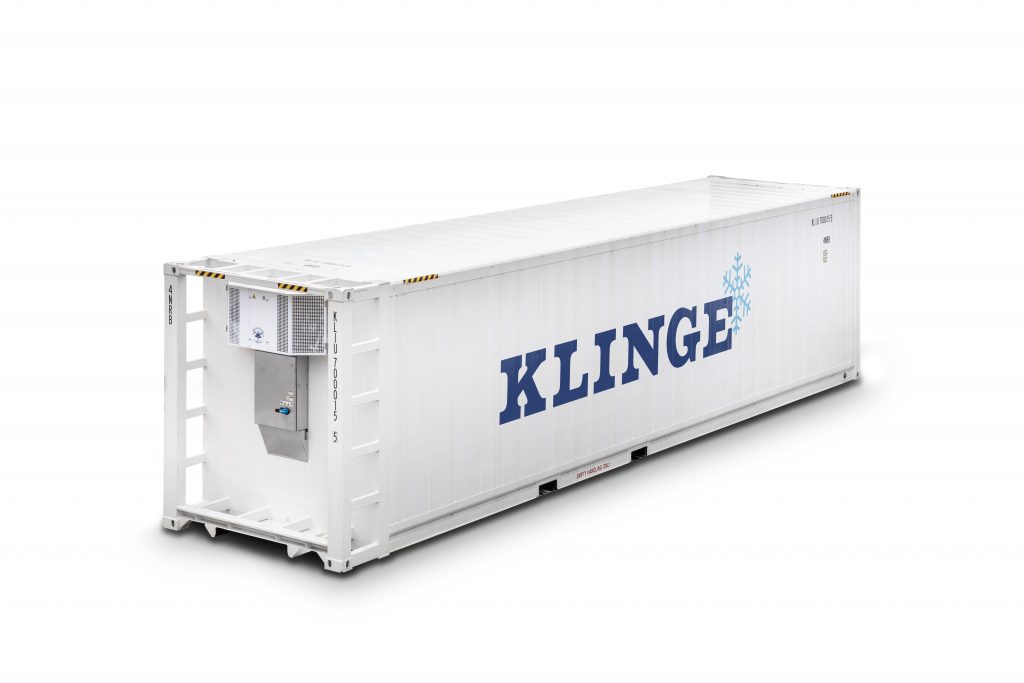 QTU-42 Quick Thaw Unit:
Controlled Thawing with Accurate and Effective Defrost System
High Capacity: The ability to quickly defrost pallets.
Controlled Thawing: The intelligent Klinge/Morep controller closely monitors and regulates internal container temperatures and the thawing process as a whole, thereby reducing driploss. Unbalanced or poorly regulated thawing can lead to large amounts of drip loss of frozen meat and seafood.
Effective Thawing: The patented defrost systems allows for accurate and effective defrost with minimal manual operation.
Additional Fail-Safes Keep Seafood Safe
Klinge Corp's transport refrigeration & freezing equipment has fail-safes in place to further remove risk in the transport of valuable seafood.
» Safeguard Your Assets: Satellite recording & monitoring of temperature, alarm status, running condition, and fuel level.
» Precise Temperature Recording: Datalogger links to an independently-powered audible and visual alarm system that sounds in the unlikely event that a failure occurs.

The Importance of Freezing Seafood Products
Each year, as many as 100 tons of fish are caught for commercial purposes around the world and about 25 tons are processed into various frozen fish products. Fish is extremely perishable and must be handled appropriately to prevent contamination or spoilage. Freezing fish is considered a best practice when transporting over long distances or storing for an extended period. General freezing guidelines for various types of fish include:
Oily fish – Store between -28°C and -18°C at a relative humidity of 90-95 percent for a maximum of 8 months.
Lean fish – Store at -20°C at a relative humidity of 90-95 percent for a maximum of 12 months.
Fileted fish – Store between -28°C and -23°C at 90 percent relative humidity for no more than 6-9 months.
The Use of Refrigerated Seafood Transport Containers
Seafood reefer containers should be used when shipping fish across the ocean. In general, refrigerated seafood shipping containers are either 20' or 40' in length and are available in two systems:
Integral – These systems feature an integral refrigeration unit that enables consistent temperature control inside the container. Air flows from the bottom container to the top. Warmer air is pulled from inside the container, chilled inside the refrigeration unit and forced back inside. Integrated containers typically have grated floors to ensure proper ventilation and air circulation.
Portable – Portable seafood ocean transport containers do not have an integrated refrigeration unit. Thus, they are often referred to as "insulated containers." The vessel's onboard central cooling plant supplies the chilled air into the bottom of the container and removed at the top as warm air. Some manufacturers and shippers choose portable containers because the absence of an integrated refrigeration unit provides additional storage space.
It is also important to maintain the appropriate temperature for frozen seafood throughout the cargo handling process to maximize the storage life and maintain the quality of the product.
Safe Frozen Meat Handling and Storage Practices
While meat is not as perishable as seafood, it does require freezing in certain situations, such as when it is used as buffer stock, intended for export or when it will be processed at a later date. Freezing meat can prevent the formation of microorganisms and pathogens that may cause illness. Meat is considered to be frozen when the temperature at the center of the piece reaches -12°C.
Although the normal acceptable storage range of frozen meat falls between -18°C and -25°C, this varies depending on factors such as the type of meat and thickness of the cut.
Effective Transport For Probiotics
Our containers are also well suited for the transport of probiotics, which must be kept within a certain temperature range to ensure safe consumption and maximum effect. The use of temperature control containers in probiotic and enzyme transport not only allows for greater yields of quality product, they also help eliminate the need to use dry ice, which poses several health risks, to maintain proper temperatures for transport.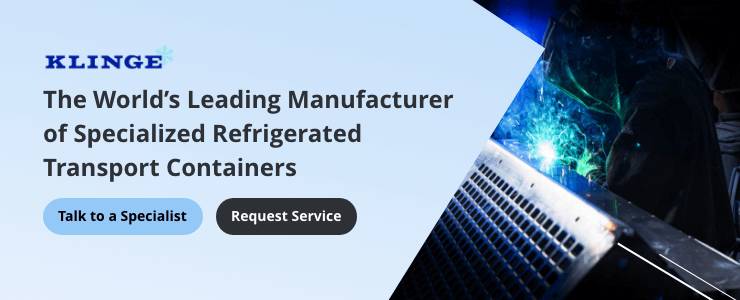 Contact Klinge Corporation to Learn More About Our Refrigerated Ocean Transport Containers
Klinge's seafood shipping containers can also provide a practical solution for storing and transporting meat. All our seafood shipping containers are the result of more than 30 years of refrigerated container design and manufacturing expertise. Contact us for more information and a no-obligation product quote today.