Freezer Units For ISO & Sea Containers
Klinge Corp offers a complete cold-chain solution to ultra-low temperature storage in ISO and sea containers. As leaders of the industry, we're constantly testing the limits of freezer unit technology to provide the most effective and efficient freezer units for your storage and shipping container needs.
Our portable commercial freezer units are used primarily by seafood and meat industries for the following applications:
Safely freezing food 
Transporting food 
Storing food
Thawing food
These portable freezer units can also keep ice core samples and deep freezing gel packs (used for transport of pharmaceuticals) at their required temperatures.
Fill out the form or call +1 717-840-4500 to learn more. If you already know what you need, you can Request a Quote or Request Service today!
Portable Freezer Units to Fit All ISO & Sea Container Sizes
Our line of commercial freezer units includes portable blast freezers; electrical refrigeration units for transport on vehicles, ships and rail; cold storage modules; and quick thaw units. Our units are made to fit a variety of ISO container dimensions and specifications to ensure we have a product to solve your cold-storage needs.
Browse our freezer units below or contact us today at +1 717-840-4500 to talk to our experts and determine which of our portable refrigeration units is right for your needs.
Freezer Unit Products for ISO Containers & Sea Containers
Portable Blast Freezer Unit (Model CBU-30)
» Freezes cargo to -60ºC (-76ºF)
» Optimal airflow ensures quick blast freezing process
Deep Freezer Unit (Model NMF-371)
» Maintains cargo from 0ºC to -60ºC (32ºF to -76ºF)
» Special design contains defrost heat in the evaporator section
» Available with an integral genset for independent operation
Deep Freezer Unit – Split System (Model NMF-371-S)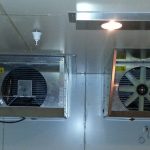 » Maintains cargo from 0°C to -65°C (32ºF to -85ºF)
» Designed especially for mounting in customer built-in rooms or on standard insulated containers.
Quick Thaw Unit (MODEL QTU-42)
» Controller closely monitors and regulates internal container temperatures (within 1°C) and the thawing process
» Stores products at their ideal process temperature with minimal manual operation
Applications and Industries
Our ISO freezer shipping containers are versatile products with a variety of potential applications:
Fish and shellfish: Commercial fisheries around the world rely on our sea freezer units to bring products safely to market without compromising quality or freshness. Our portable blast freezer brings packaged, filleted, or whole fish to temperatures as low as -60ºC (-76ºF). Doing so quickly is critical to preventing damage. By optimizing airflow in the unit, the freezing process is expedited, leading to a more saleable product and less risk overall as fish move through a global supply chain and onto diners' plates. Our freezer containers are suitable for use with everything from prize Bluefin tuna to sardines and filleted fish, as well as packaged shellfish, cephalopods, and other products.
Meat and poultry: Meat and poultry must be kept cold or frozen during transit to prevent the growth of bacteria and foodborne pathogens. Transporting meat and poultry is arguably more complicated than fish, as different products — and different supply chains — have different temperature requirements. For example, prime-grade beef meat may move from the slaughterhouse to market in a matter of days, and may only require cooling to stay fresh. Commercial frozen or processed food products, on the other hand, can spend weeks in transit. What is critical in both scenarios is that temperatures remain stable and predictable. For this reason, Klinge Corporation freezer units play a vital role in shipping meat and poultry around the world.
Other frozen foods: Other frozen food includes ice cream and desserts, fruits and berries, packaged meals and pizzas, and more. Spend a few minutes in any grocery store, and you'll immediately see the variety and diversity of products that are shipped and sold frozen. The Food Safety Modernization Act outlines temperature standards for transporting frozen foods. As well, different frozen foods also have different shelf lives — for example, pork and fatty fish products experience a significant drop-off in quality after six months in frozen storage. Packaged chicken and citrus fruit concentrate, on the other hand, can last for a year or longer.
Chemicals and pharmaceuticals: Our freezer containers aren't just for frozen food transport. They also play an important role in the chemical and pharmaceutical industries, or any other application in which sensitive products must be kept in freezing temperatures. Certain vaccines and other biological products are an excellent example of this. Each year, an estimated 4% of pharmaceutical products are discarded due to problems in the cold chain. Given the health and economic implications of this, any shipping container transporting frozen medical products must be equipped with precise controls and, ideally, dual-redundant freezer systems to prevent failure.
These are just a few of the many uses of our freezer units. With more than 30 years of experience, we excel at matching our customers with the right tools for their operation. Let us help you take the guesswork out of maintaining safe and stable temperatures during shipping. Contact a Klinge Corporation representative to learn more about who we are and how we can help.
Additional helpful resources: