FREEZER UNITS FOR ISO & SEA CONTAINERS
Klinge Corp offers a complete cold-chain solution to ultra-low temperature storage in ISO and sea containers. As leaders of the industry, we're constantly testing the limits of technology to provide the most effective and efficient freezer units for you storage and shipping container needs.
Our freezer units are used primarily by seafood and meat industries for safely freezing, transporting, storing and thawing of food. These freezers can also keep ice core samples and deep freezing gel packs (used for transport of pharmaceuticals) at their required temperatures.
Fill out the form or call +1 717-840-4500 to learn more. If you already know what you need, you can Request a Quote or Request Service today!
Freezer Units to Fit All ISO & Sea Container Sizes
Our line of freezer units includes blast freezers; electrical refrigeration units for transport on vehicles, ships and rail; cold storage modules; and quick thaw units. Our units are made to fit a variety of ISO container dimensions and specifications to ensure we have a product to solve your cold-storage needs.
Browser our Freezer Units below or contact us today at +1 717-840-4500 to talk to our experts and determine which of our products is right for your needs.
Freezer Unit Products for ISO Containers & Sea Containers
Portable Blast Freezer Unit (Model CBU-30)
» Freezes cargo to -60ºC (-76ºF)
» Optimal airflow ensures quick blast freezing process
Deep Freezer Unit (Model NMF-371)
» Maintains cargo from 0ºC to -60ºC (32ºF to -76ºF)
» Special design contains defrost heat in the evaporator section
» Available with an integral genset for independent operation
Deep Freezer Unit – Split System (Model NMF-371-S)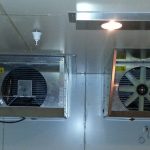 » Maintains cargo from 0°C to -65°C (32ºF to -85ºF)
» Designed especially for mounting in customer built-in rooms or on standard insulated containers.
Quick Thaw Unit (MODEL QTU-42)
» Controller closely monitors and regulates internal container temperatures (within 1°C) and the thawing process
» Stores products at their ideal process temperature with minimal manual operation