Model NMF-371S
Klinge Corporation's Split-System Deep Freezer Container, Model NMF-371-S, is designed especially for mounting in customer built-in rooms or on standard insulated containers. The unit can provide cargo temperature in the range from 0°C to -65°C. The unit operates in ambient temperatures up to +50°C.
The unit is designed to maintain temperatures in the container by automatically heating, cooling and defrosting during operation. Power for the unit is 400/460 volt 3-phase, 50/60 Hz. Control circuit power is reduced to 24/28 volt AC. The NMF-371-S is designed for and suitable for transportation over long voyages of deep frozen, frozen or chilled cargo.
Features Of The Split-System Deep Freezer Unit (Model NMF-371-S):
High static evaporator fan -Manual reset control circuit breaker -Auto function tests and fault diagnostics -Microprocessor and digital display -Motor start sequence delay -No wood used in the construction of the unit -Power saving "On demand" auto defrost system -Amp loop current monitoring of amperage on system -Power supply for optional container lighting -Prepared for easy addition of "Logshow" remote monitoring and operation Product Specifications Available Upon Request.
Photos Of The Split-System Deep Freezer Unit (Model NMF-371-S):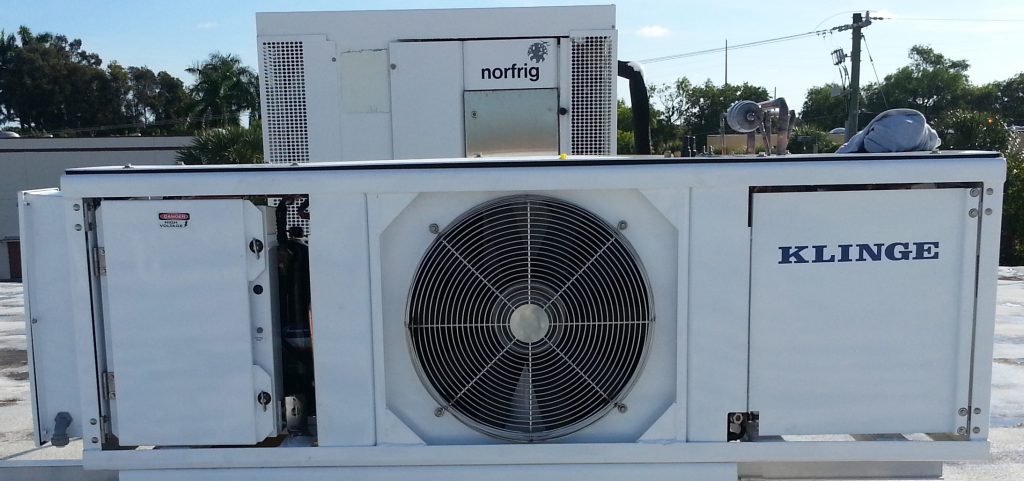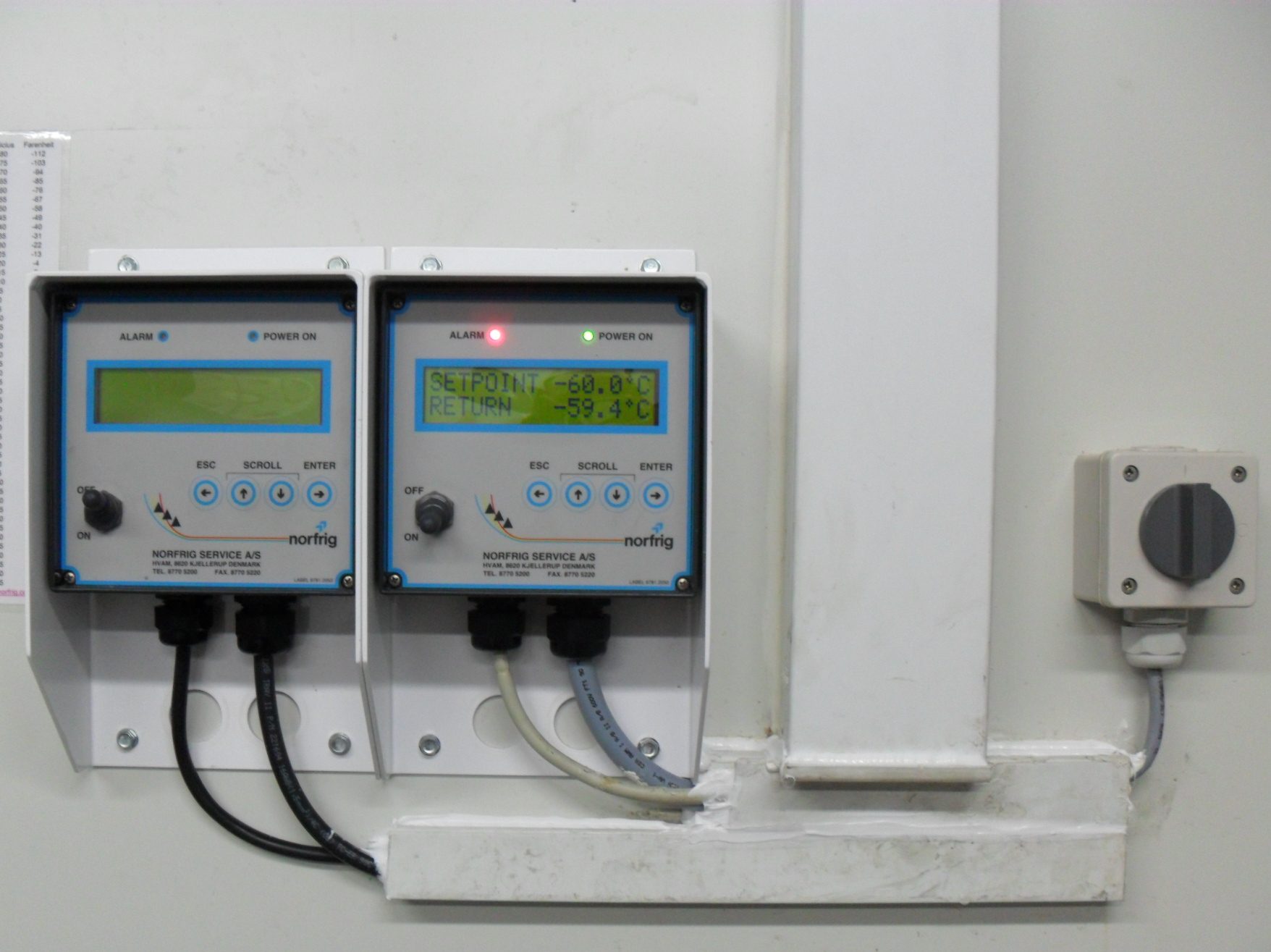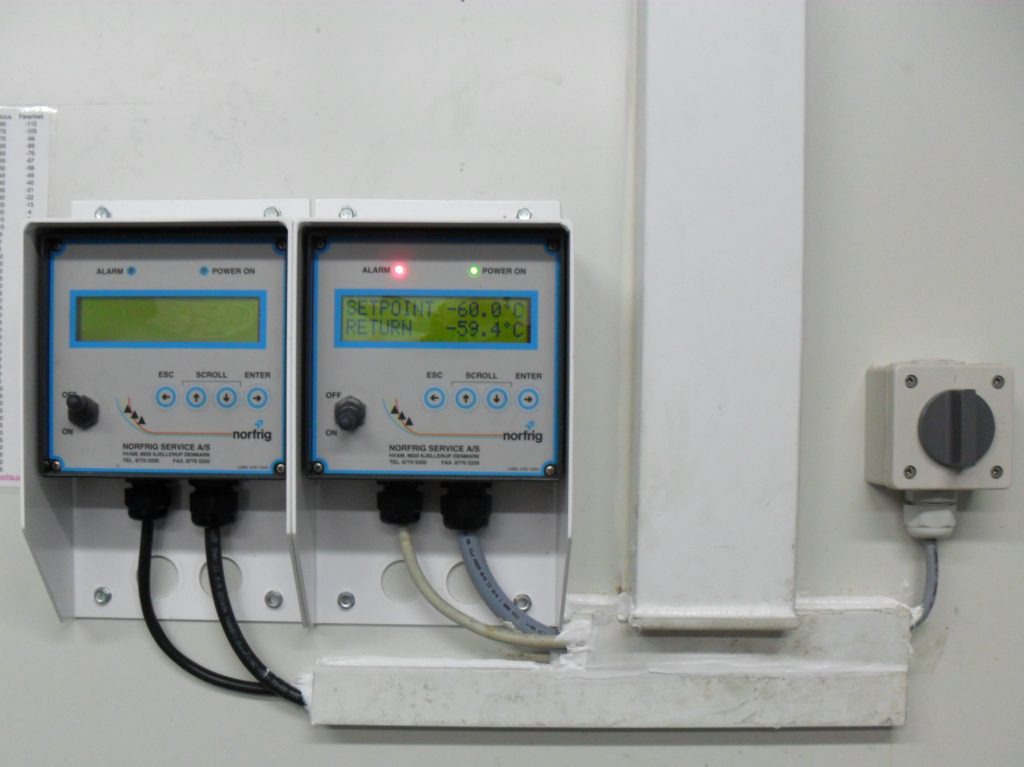 Benefits and Applications
One of the main benefits of our NMF-371-S split-system freezer is its versatility. This unit is an ideal solution for customers with different storage and handling needs, as it can maintain cargo temperatures ranging from 0°C to -65°C. Whether your product needs to be deep frozen, frozen, or chilled, the NMF-371-S is a convenient choice for a variety of applications.
Key advantages of choosing an NMF-371-S freezer container include:
Flexibility: The NMF-371-S is one of our most flexible products. Mount it in a walk-in freezer or insulated container. Switch between freezing, cooling, and defrosting modes quickly and seamlessly. Whatever your specific needs are, the NMF-371-S has the versatility to ensure safe and accurate storage and transport for any temperature-sensitive item. Its sophisticated microprocessor control is easy to use and program as necessary.
Space saving: By doing the work of both a freezer and chilling unit, the NMF-371-S saves space in your facility, simplifying your workflow and keeping your costs down. It also saves you time, avoiding the need to move products between different rooms or storage containers for different processes.
Cost-effectiveness: Our NMF-371-S split-system deep freezer unit is affordable to run and maintain on an ongoing basis. Built-in power saving systems and auto-function diagnostics keep service costs down while ensuring reliable performance.
To learn more about the benefits of our deep freezer systems, contact a representative directly. We would be happy to run the numbers and show you how quickly you will see a return on your investment.
Freezing vs. Deep Freezing vs. Refrigeration
To fully understand the advantages of our split-system freezers, some distinctions are necessary. Shipping and storage companies that work with perishable items distinguish between three terms:
Refrigerating is the process of keeping a product cool, but not frozen. This is typically done for short-term storage and transport of certain foods, beverages and pharmaceuticals.
Freezing is the process of slowly bringing a product to an internal temperature of -18°C. This is how most home freezers operate. The main disadvantage to it is that, over time, large ice crystals form, which can break down the cellular walls of a food product, altering its texture and taste.
Deep freezing is the most common technique for commercially transporting fish, meat, and other perishable foods. It involves exposing the product to temperatures as low as -65°C, which expedites the freezing process without causing damage.
The NMF-371-S is unique among deep freezer storage containers in that it offers all three functions in a single unit.
Other Industry Applications
Besides shipping and storing food and beverages, our products have a range of additional applications. Chemical, pharmaceutical, and oil and gas companies all rely on Klinge Corporation technology to maintain safety and minimize the risk of product loss. Armed forces and military contractors also use our products. We can tailor any unit to meet industry-specific regulations or requirements.
Many of our products are ATEX certified. We can also provide official validation reports for noise, temperature, vibration, and other operating parameters.
Explore our website to learn more about the potential applications for our NMF-371-S deep freezer and other refrigerated storage units.
Additional helpful resources: