MODEL NMF-371S
Klinge Corporation's Split-System Deep Freezer Container, Model NMF-371-S, is designed especially for mounting in customer built-in rooms or on standard insulated containers. The unit can provide cargo temperature in the range from 0°C to -65°C. The unit operates in ambient temperatures up to +50°C.
The unit is designed to maintain temperatures in the container by automatically heating, cooling and defrosting during operation. Power for the unit is 400/460 volt 3-phase, 50/60 Hz. Control circuit power is reduced to 24/28 volt AC. The NMF-371-S is designed for and suitable for transportation over long voyages of deep frozen, frozen or chilled cargo.
Email inquiry@klingecorp.com for the brochure.
FEATURES OF THE SPLIT-SYSTEM DEEP FREEZER UNIT (MODEL NMF-371-S):
High static evaporator fan
-Manual reset control circuit breaker
-Auto function tests and fault diagnostics
-Microprocessor and digital display
-Motor start sequence delay
-No wood used in the construction of the unit
-Power saving "On demand" auto defrost system
-Amp loop current monitoring of amperage on system
-Power supply for optional container lighting
-Prepared for easy addition of "Logshow" remote monitoring and operation
PHOTOS OF THE SPLIT-SYSTEM DEEP FREEZER UNIT (MODEL NMF-371-S):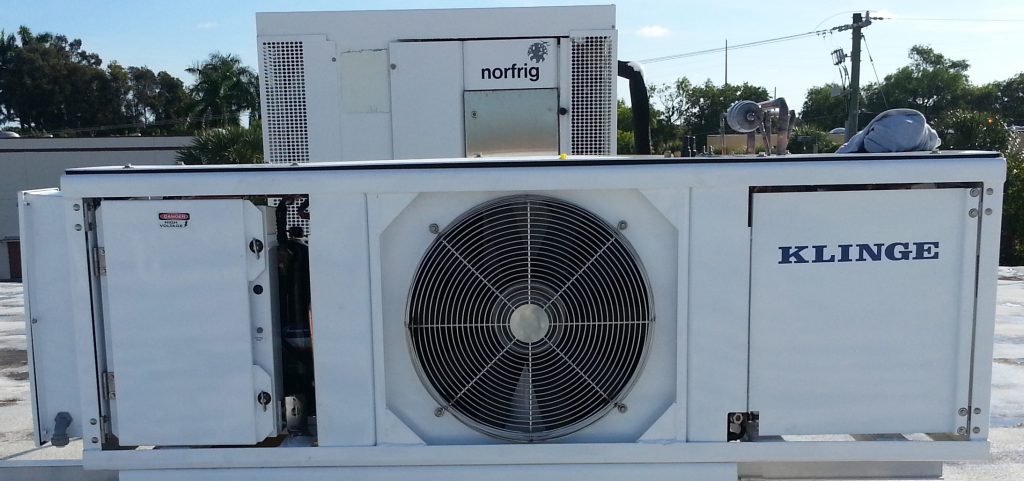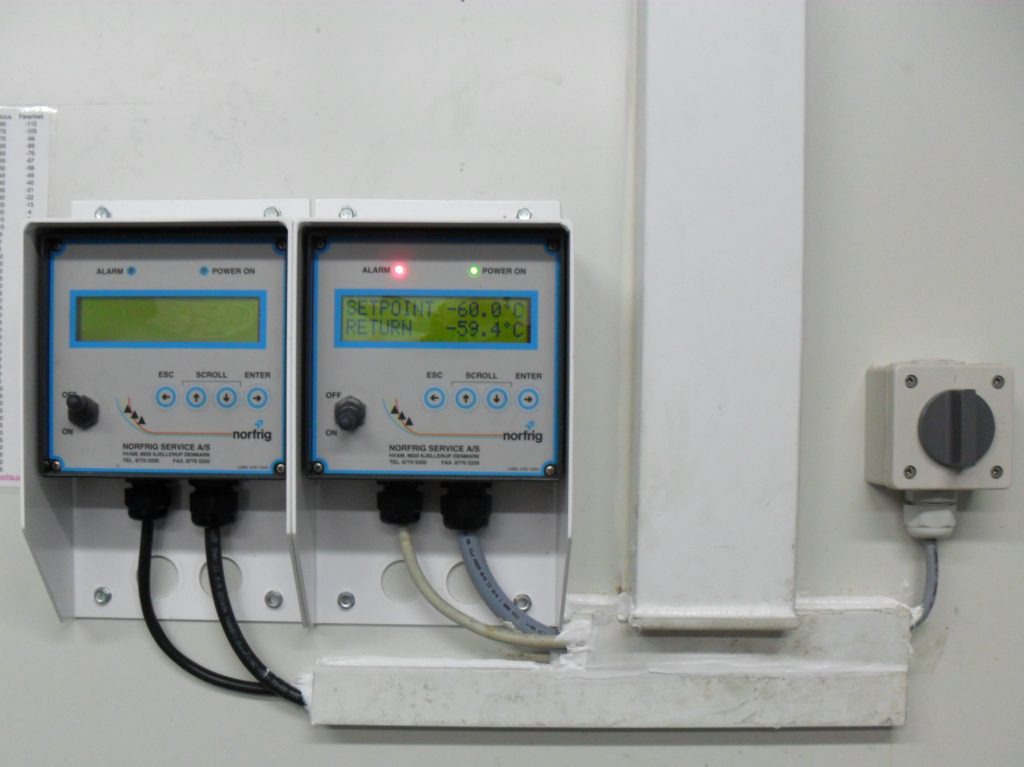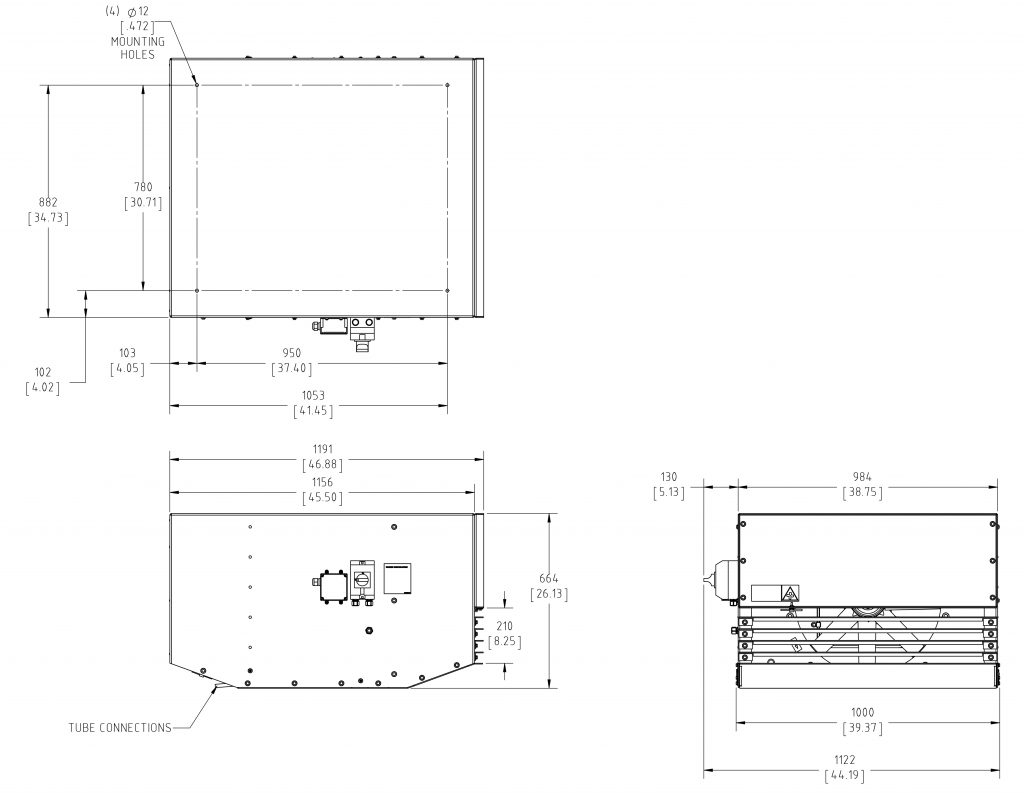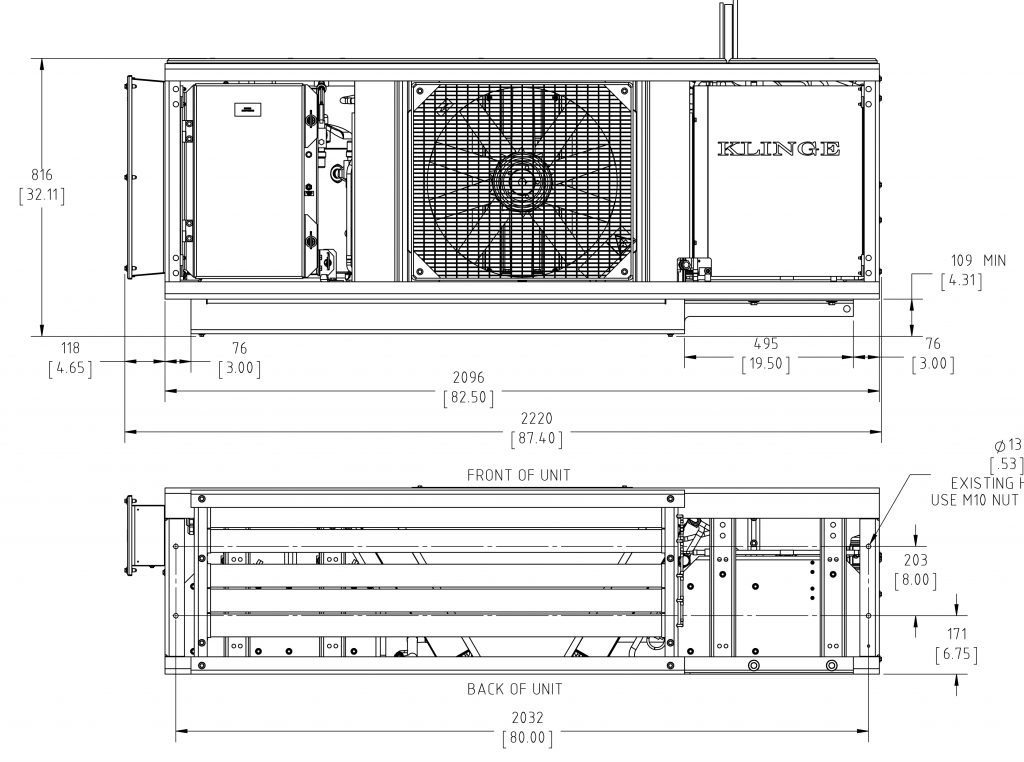 SPECIFICATIONS OF THE SPLIT-SYSTEM DEEP FREEZER UNIT (MODEL NMF-371-S):
Condenser:
Dimensions – Width 2220 mm, Height 820 mm, Depth 550 mm
Weight – 320 kg
Evaporator:
Dimensions – Width 1125 mm, Height 670 mm, Depth 1200 mm
Weight – 94 kg
Power Supply: AC, 400/460 volt +/- 10% 3-phase, 50/60 Hz +/- 2.5Hz AC, 24/28 volt (from transformer)
Method of Defrost:
Manual, on-demand and automatic timer back-up
Refrigerant:
R134a High Temperature System (compressors 1 & 2) R23 Low Temperature System (compressor 3)
Unit capacity 60 HZ – Net cooling capacity at 37.8°C ambient temperature at 60 Hz power
Return air temperature                 Capacity                     Power Requirement
-25°C                                           10,000 W                    18,000 W
-55°C                                           6,000 W                      12,000 W