Model PFR-582ex
» Two full capacity reefer units offer total redundancy—each reefer has their own thermostat and control circuit
» Complies with international regulations for the transport of dangerous goods
» Refrigeration system is just 14 in (365 mm) deep, allowing for maximum cargo space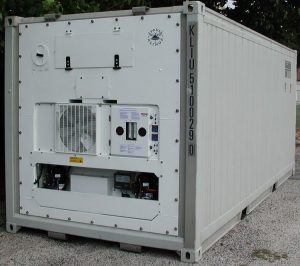 Klinge's Dual Refrigerated Container has two full capacity reefer units. The dual refrigeration system, Model PFR-582ex, automatically switches to its back-up in an emergency to provide the ultimate peace of mind when shipping hazardous cargo or valuable cargo. The system complies with the International Maritime Organization's regulations for transporting certain Dangerous Goods.
Klinge's line of Dual Refrigerated Containers are used to transport hazardous chemicals, resins, adhesives, pharmaceuticals, ammunition and other goods requiring extra protection. Klinge has been providing this model to major chemical and pharmaceutical companies around the world for nearly 30 years. Contact a Klinge Group Specialist Today!
Additional Features Of The Dual Refrigerated Container (Model PFR-582ex)
Reliability.
» Total redundancy—Two complete and separate refrigeration systems, each with its own thermostat and control circuit.
» Each reefer unit is monitored by a separate controller which, in case of emergency, will activate the horn and alarm strobe as well as automatically switch to the back-up reefer unit
» Two individual Microprocessor Controllers provide reliable temperature control with an accuracy of ±0.4°F (±0.25°C) in extreme environments.
» Global System for Mobile Communications
» Satellite communication tracks location, monitors box and ambient temperature, running condition, alarm status, and much more
» Large alarm strobe & powerful alarm horn for each reefer unit
» Round-the-clock notification and problem solving services
» Electronic datalogger with back-up alarm and printer
» Large battery charger for alarm, datalogging, and satellite systems
Safety.
» Complies with IMDG regulations for the transport of Classes 4.1 through 5.2
» Between the evaporator and condenser section the unit is insulated with fire resistant (according to ISO 3582) and CFC-free polyurethane foam.
» Components in the evaporator section are explosion protected in accordance with the EX G3 norm (UL Class 1 Group D).
Cost Savings.
» Refrigeration system is just 14 in (365 mm) deep, allowing for maximum cargo space.
» Power saving "On demand" auto defrost system.
» Electric Cooling & Hot Gas Heating and defrost.
Sophisticated Design, Yet Easy Operability.
» All wear and tear components are easily serviced from the front.
» Easy access to all components in control box.
» Full size, easy access, hinged evaporator door for inspection.
» Controllers are the most well-proven & simple to operate in the industry.