Model PFR-582ex
» Two full capacity reefer units offer total redundancy—each reefer has their own thermostat and control circuit
» Complies with international regulations for the transport of dangerous goods
» Refrigeration system is just 14 in (365 mm) deep, allowing for maximum cargo space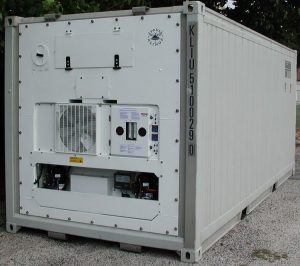 Klinge's Dual Refrigerated Container has two full capacity reefer units. The dual refrigeration system, Model PFR-582ex, automatically switches to its back-up in an emergency to provide the ultimate peace of mind when shipping hazardous cargo or valuable cargo. The system complies with the International Maritime Organization's regulations for transporting certain Dangerous Goods.
Klinge's line of Dual Refrigerated Containers are used to transport hazardous chemicals, resins, adhesives, pharmaceuticals, ammunition and other goods requiring extra protection. Klinge has been providing this model to major chemical and pharmaceutical companies around the world since 1984.
Additional Features Of the Dual Refrigerated Container (Model PFR-582ex)
Why should you choose the Klinge Corp. Dual Refrigerated Container to protect your precious chemical, food-related, military, pharmaceutical or other sensitive goods? There are several reasons to consider:
Reliability.
At Klinge Corp., we have over our many years developed many safeguards to make sure that this is the most reliable dual refrigerated transport system on the market. With two separate and distinct refrigeration systems in one unit, you have complete redundancy.
Each section has its own dedicated thermostat and control circuit. Should one of the units experience a problem, the dedicated controller will immediately activate an alarm and switch to the backup unit. These individual microprocessor controllers are highly reliable and accurate when it comes to temperature control.
2. Tracking & Alarms
You will never lose track of your refrigerated shipment when you use our Dual Refrigerated Container. These units care available with an optional global system for mobile communications, which includes a satellite system that is constantly tracking the location of your unit, monitoring temperatures, taking note of the running condition, and i in some versions also monitoring the alarm status and other features.
The onboard alarm system features a highly visible strobe light and an extremely loud horn so that there will be virtually no way to miss a problem. You'll also enjoy around-the-clock notification and problem-solving services, and an electronic datalogger with backup alarm and printer.
3. Safety
At Klinge Corp., we understand that safety is vitally important when you are transporting sensitive cargo. There are individuals all across the supply chain, from start to finish, whose well-being could be put at risk if these sometimes hazardous materials are not transported safely. That is why we make very sure all of our Dual Refrigerated Transport Containers comply with the required regulations. In the case that fully explosion-proof equipment is needed, please review these options here.
Each one of these units is insulated with fire-resistant (per ISO 3582) and CFC-polyurethane foam situated between the evaporator and condenser sections. Motors and Junction Boxes in the evaporator section are explosion-protected, as well.
4. Cost Savings
Transporting hazardous or fragile materials can be an expensive process, and anywhere you can save money and make extra room in your budget will usually be desirable and help your bottom line. Our Dual Refrigerated Transport Container Units can save you money in a number of ways. Our energy-saving power system features electric cooling and hot gas heating and defrost, with a power-saving "on demand" auto-defrost system.
With the refrigeration system itself being only 14 inches (365mm) deep, you have plenty of space to store your cargo in each shipment, meaning fewer shipments and greater savings.
5. Easy Operation
Despite a sophisticated design that allows us to provide all the safety, reliability and convenience features you need, this explosion-proof transport is extremely easy to operate. Your technicians can service all wear and tear components right from the front of the unit, with easy access to all the components in the control box. Our controllers are the most proven and easiest to operate in the industry, and no special advanced training is required for your employees to use them.
The unit also features a full-size, easy-access hinged evaporator door for inspection purposes.
Additional Benefits of Dual Refrigeration Explosion-Proof Shipping Containers for the Chemical Industry
Chemical transportation is one of the most challenging and sometimes dangerous of industrial shipping tasks. Many chemicals must be kept at a very specific temperature to avoid degradation or an exothermic reaction. With dual refrigeration explosion-proof transport solutions from Klinge, you can transport large batches of chemical samples at once safely, even if you have batches with extremely sensitive temperature regulation needs among your shipping requirements.
To learn more about our Picture Frame Dual Refrigeration Unit and how it can help you in your chemical, pharmaceutical, food processing or other industrial process that requires the transportation of temperature-sensitive materials, submit our contact form or call us at 717-840-4500.
ADDITIONAL CHEMICAL REFRIGERATION OPTIONS:
OTHER HELPFUL RESOURCES: