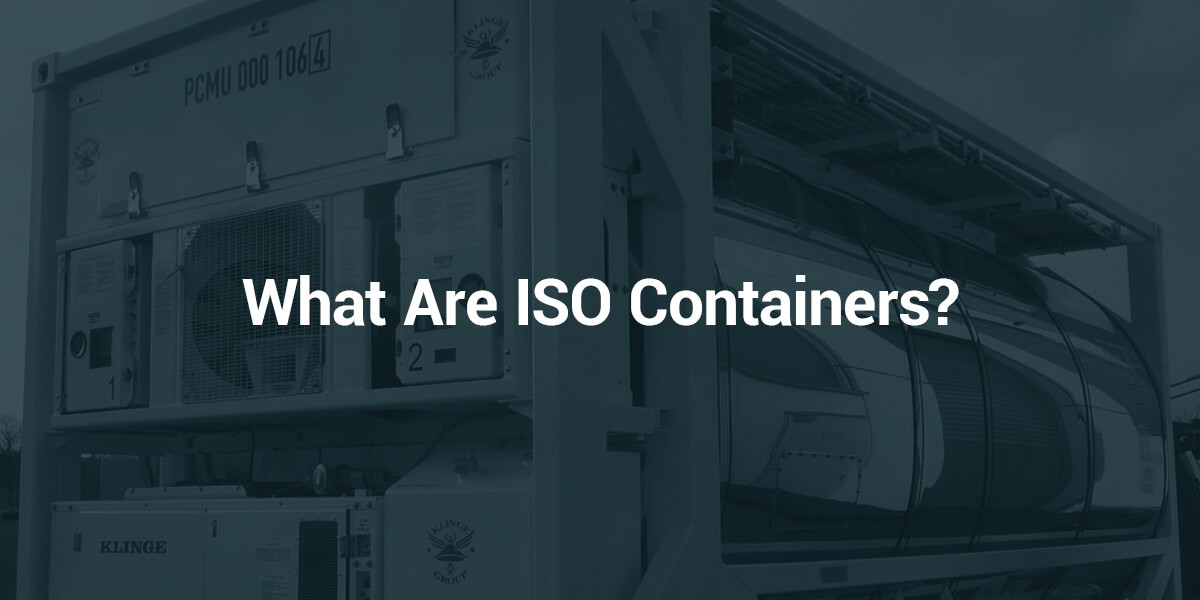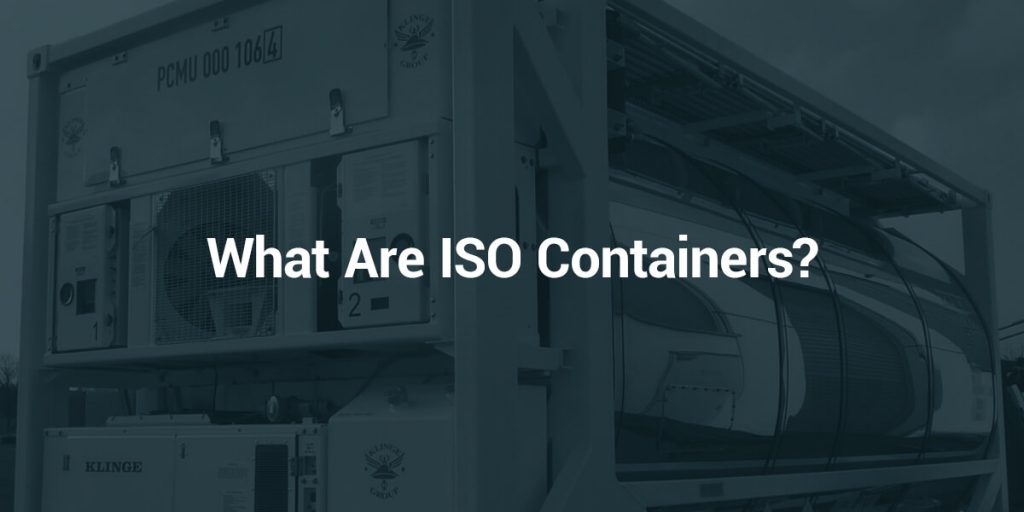 ISO containers are versatile storage and shipping solutions that make the transportation process easy and efficient. At Klinge Corporation, we offer a variety of ISO containers that serve industries that ship products in temperature-controlled environments. Below is a closer look at everything you need to know about ISO containers and how they can work for your business and applications.
ISO Container Meaning
ISO shipping containers are cargo containers you can use to ship products via trucks, boats or trains. ISO containers are international intermodal containers that meet the standards specified by the International Organization for Standardization (ISO).
Most often, people use ISO containers for hauling heavy loads and palletized products. Because certain methods of transporting ISO containers — specifically trucks and boats — will leave them exposed to the elements, they're built to withstand environments that may experience harsh weather and other extreme conditions.
The History of ISO Containers
ISO containers were patented in 1956. The original model featured a similar design to what's used today. It was built with steel and intended to be stackable without being damaged due to its reinforced corners, which is when ISO container stacking began.
It was during the Vietnam War in the late 1960s that containers grew in popularity as a mode of transport. When the United States military was looking for a way to get machinery and equipment delivered to troops quickly and efficiently, they found that containers were the best way to do so.
Today, ISO containers are commonly used for shipping, but that's not the only way people use them. These containers offer a customizable and flexible structure for numerous applications, which you can explore later in this article.
ISO Container Dimensions
The ISO developed a standard dimension for steel shipping containers, which is used around the world. This smooths out the international shipping process, as products don't need to be moved to different containers. Instead, they're transferred to different modes of transportation between their starting points and destinations.
A standard ISO container is 8 feet wide, 8.5 feet high and can be either 20 or 40 feet long.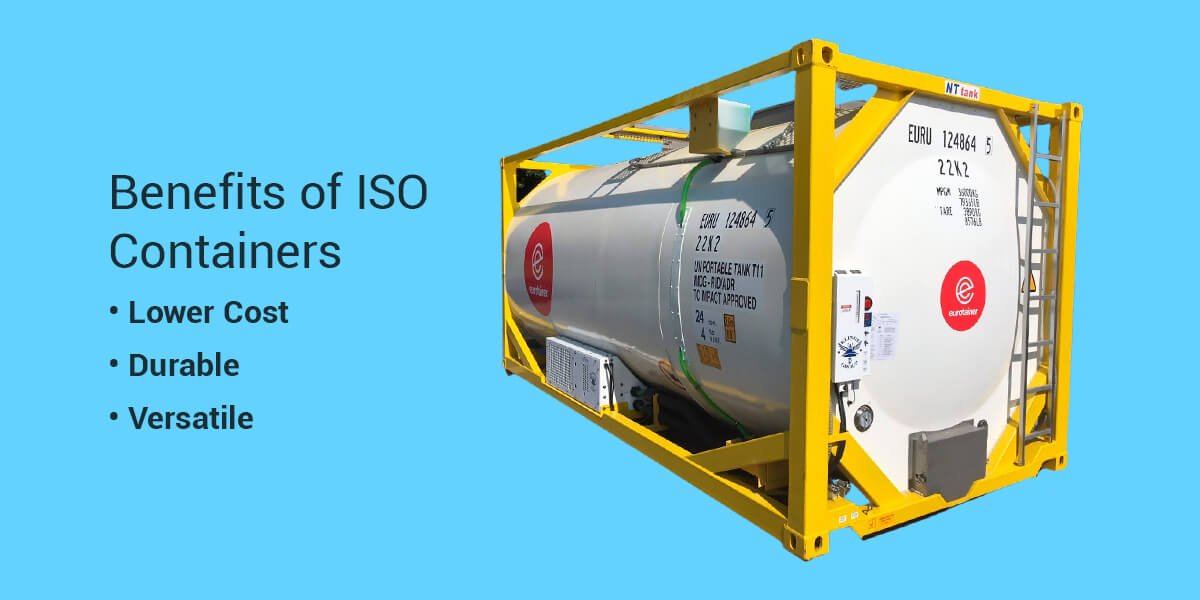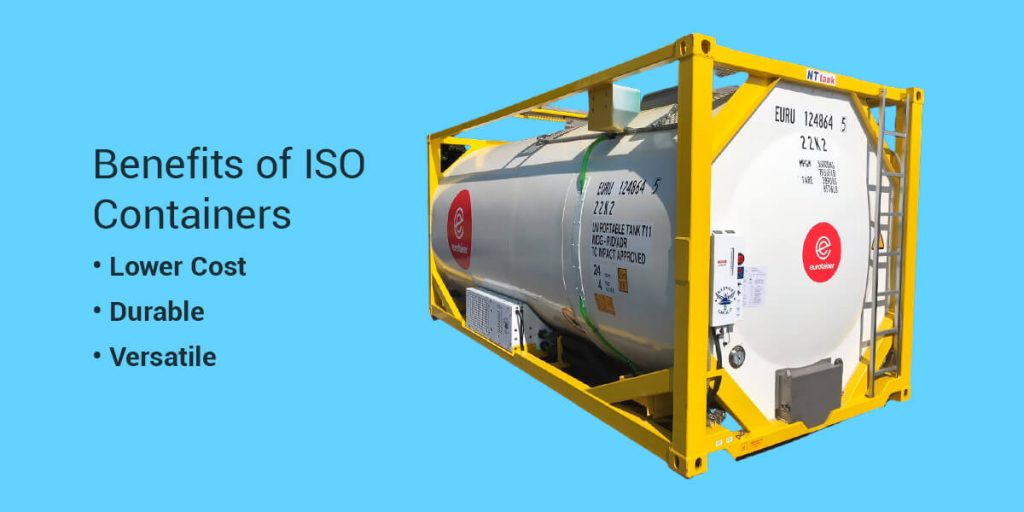 What Are the Benefits of ISO Containers?
ISO containers provide many benefits to everyone involved in the shipment process, from the manufacturer to the customer and everyone in between. Here are some of the benefits you get from using ISO containers:
1. Lower Cost
Because ISO containers provide a standardized shipping method, they help lower the often high cost of international shipping and improve efficiency. When boats, trains and other forms of transportation can transport containers that are all the same size, they can haul more goods in a safer and more organized way.
2. Durable
ISO shipping containers are built with steel, specifically the same steel that's used to build bridges and buildings meant to withstand harsh environments. The panels on the containers should be ridged, watertight and wind-resistant. The strong steel makes it easier for them to be stacked on top of each other.
3. Versatile
The simplistic yet durable design of ISO containers allows them to haul nearly any type of product. Even refrigerated goods can be shipped in one. In recent years, people have begun purchasing ISO containers and using them for a variety of things outside of just shipping, including turning them into food trucks, pop-up events or shops, homes and other creative alternatives.
ISO Container Types and Sizes
Though ISO containers are fairly uniform when it comes to dimensions and materials, they still come in numerous options, making them an ideal option for all kinds of applications. Here are some of the choices you have regarding ISO containers and the sizes they come in: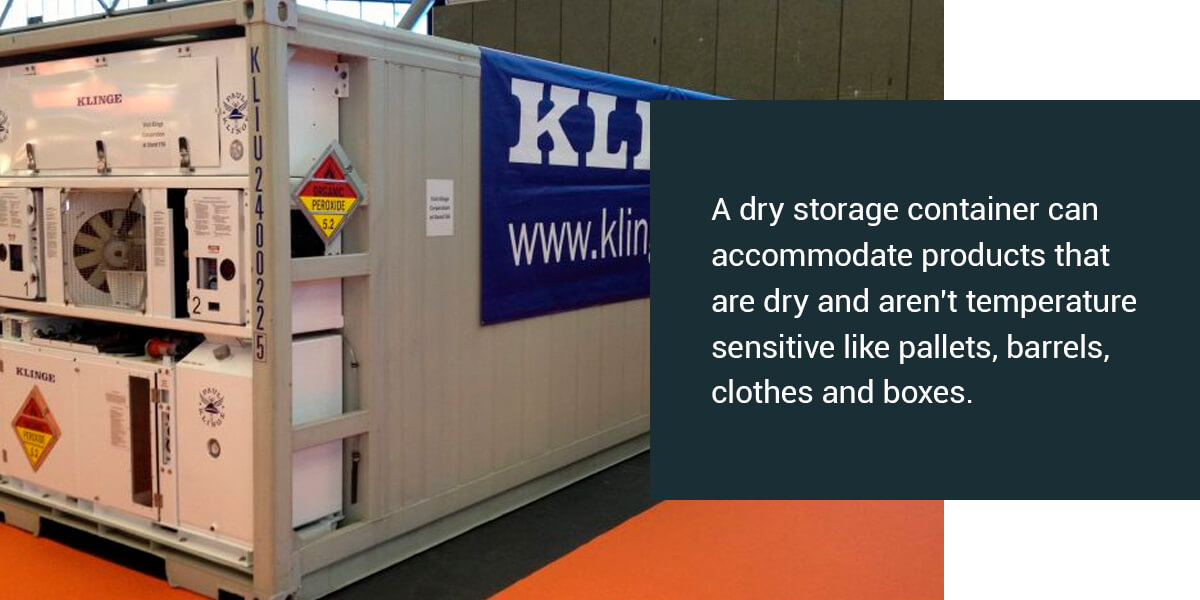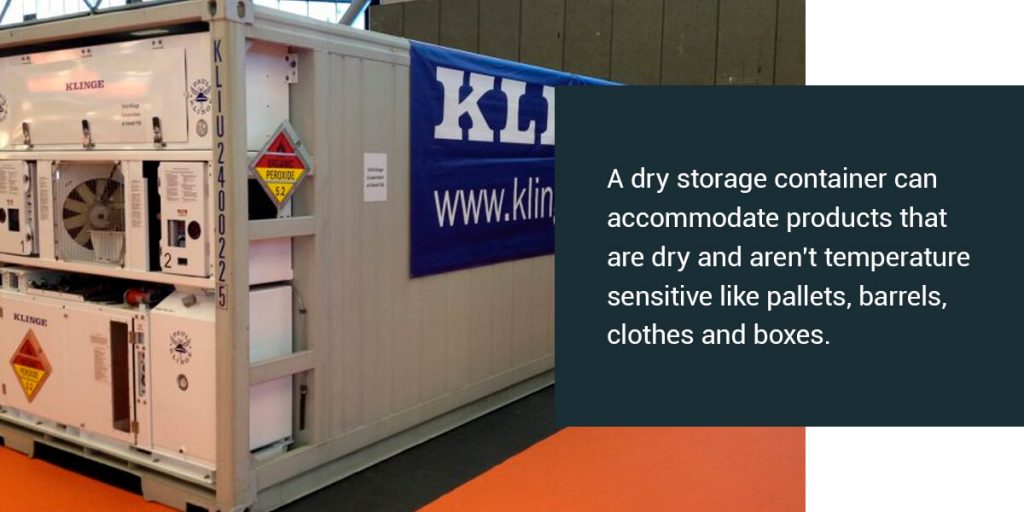 1. Dry Storage
These ISO containers are the standard ISO container you'll most commonly see in international shipments. A dry storage container can accommodate products that are dry and aren't temperature sensitive like pallets, barrels, clothes and boxes. These containers are built with steel that's resistant to salt water, wind and rain, and are usually 20 or 40 inches tall.
Some industries utilize dry containers for more than just international shipping, including mobile clinics, mobile retail stores, food trucks, warehouses, workstations and more.
2. Refrigerated Containers
Also called reefer containers, refrigerated containers provide a shipping option for goods that need to be in a temperature-controlled environment. These containers come in models that are 20 to 40-feet-long. For goods and perishable foods that can't be exposed to warm temperatures, refrigerated containers are the best solution.
Using a high-quality reefer protects the manufacturer, the transportation company and the consumer. Because many refrigerated products are necessities, it's incredibly important that they're delivered with the best care and quality.
Here are some of the industries that rely on reefers for international shipping:
Food: Grocery stores rely on reefers to transport the food and beverages they sell to customers. Even frozen items sold in grocery stores and other retail stores can be transported internationally using a reefer.
Disaster relief: Medicine and food are essential immediately following a disaster. Because they're perishable, using a reefer to transport large amounts of these critical items will help minimize the damage to communities following a disaster.
Florists: Florists have more opportunities to sell their arrangements when they can use a reefer for transportation. Flowers won't last if they're exposed to warm temperatures for too long. Using a refrigerated ISO container allows them to stay fresh until they arrive at their destinations.
Military: Military and government applications, such as deployment areas and testing sites, often require specially designed reefers. These containers feature vibration resistance and electromagnetic interference to provide safe transportation and storage options for products while in challenging areas.
Pharmaceutical: The pharmaceutical industry greatly benefits from the use of reefers, as the majority of medicines, vitamins and some medical tools must be temperature controlled. Reefers allow the safe transport of these items to hospitals and other medical facilities from distributors worldwide.
Oil and gas: Oil and gas can be flammable if not kept at the right temperatures. Transporting these materials in refrigerated containers keeps everyone involved in the transportation process safe.
Art: Fine art, from rare paintings to pottery to delicate film, needs to be transported with the utmost care. If exposed to heat for too long, these materials could melt or be otherwise damaged. Transporting them in reefers keeps them safe and ensures they arrive in the condition they left in.
Chemicals: Hazardous materials are often made of chemicals that need to be transported in temperature-controlled environments, especially if they're flammable. Refrigerated containers often have explosion-proof components that add an extra level of protection for those transporting them.
These are just some of the industries that can benefit from utilizing ISO containers for their shipping needs. If you need to keep your product at specific temperatures, you can likely use these containers in your processes.
3. Open Top Containers
Open top ISO containers are the same size as dry storage containers. The only difference is that there's no steel on top — the container is left open or has a removable canvas roof attached to it. This feature allows you to carry loads that may be oddly shaped and need to extend above the top of the container.
4. Flat Rack Containers
Flat rack ISO containers take open top ISO containers one step further and have no sidewalls. They can also come with no walls at all, which allows them to function as more of a heavy-duty pallet. This is helpful when hauling a load that's oddly shaped or too large to fit in a normal dry storage container.
5. Open Side Containers
Open side ISO containers have openings on the sides to allow loads that are extra long to fit in the container. They're the same size as dry storage containers.
6. Tank Containers
Tank ISO containers are most commonly used for transporting liquids, especially toxic, highly combustible and corrosive liquids. These could be chemicals, oil, beer, wine, milk or mineral water. Tank containers have the same dimensions as dry storage containers. They differ in that they have a polyethylene tank inside to safely transport the liquid.
7. Ventilated Containers
Ventilated ISO containers are best for transporting products that shouldn't be completely cut off from the outdoor air supply during the transportation process. This includes coffee beans and cocoa beans that need proper ventilation to stay fresh.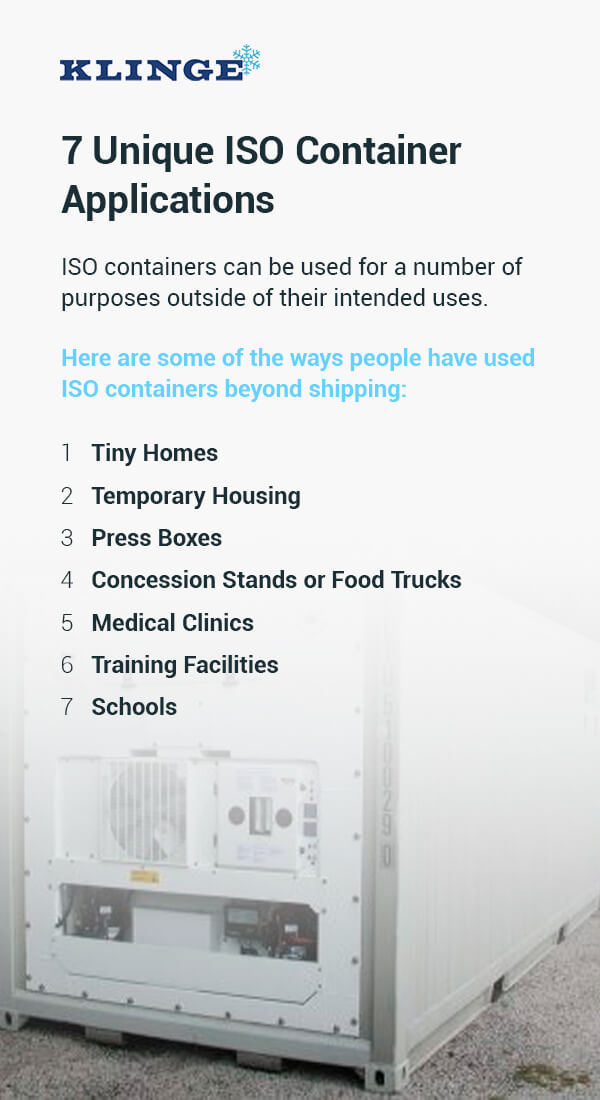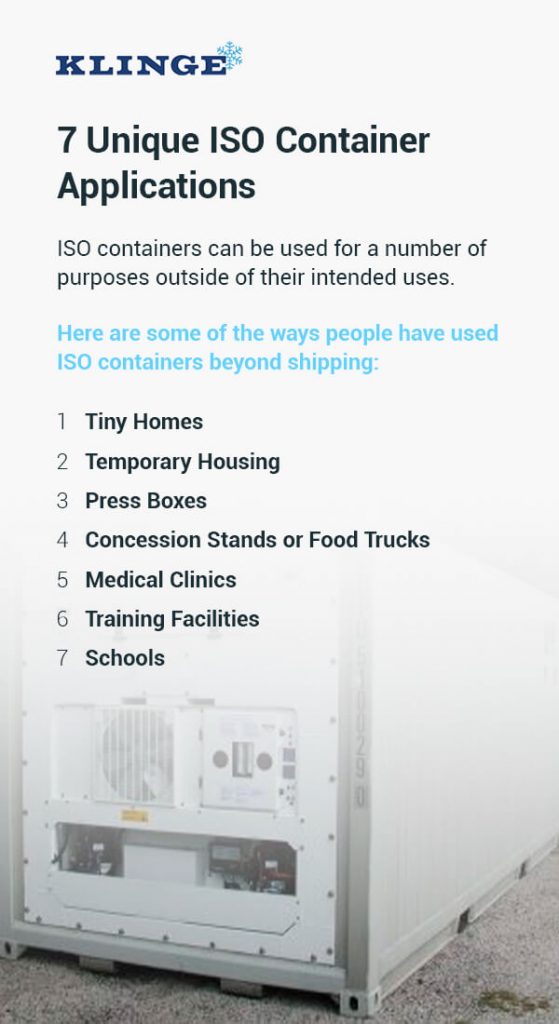 7 Unique ISO Container Applications
ISO containers can be used for a number of purposes outside of their intended uses. Here are some of the ways people have used ISO containers beyond shipping:
1. Tiny Homes
For those looking to downsize and live minimally, a shipping container can make an affordable housing option. This steel container can be completely transformed on the inside and outside with some time and a small financial investment. In the past 10 years, tiny homes have become popular alternatives to traditional houses, and containers can offer a great structure for building one.
2. Temporary Housing
ISO containers provide a means of shelter that's low cost and low maintenance. Using renovated containers to provide shelter to those without homes is a unique solution to homelessness. Placing multiple containers in one area can help create a community.
3. Press Boxes
ISO containers can be used for press boxes. This is an efficient way for the media to stay sheltered from the weather while covering an outdoor event in a way that allows them to move from field to field. Universities particularly benefit from having this kind of press box, as they often have multiple sports teams and facilities.
4. Concession Stands or Food Trucks
You can create a food truck or concession stand using an ISO container, as they're a perfect size and allow you to customize the interior to your exact needs. Whether placed somewhere permanently as a concession stand or placed on wheels to be moved around as a food truck, ISO containers allow you to start your business in an affordable way.
5. Medical Clinics
In the event of a natural disaster or other emergency, ISO containers provide a portable and cost-efficient way to set up a medical clinic. These containers offer shelter for doctors and patients and are a clear way to indicate that professionals have arrived to give relief. The inside is spacious and can hold tables for patients and store supplies that medical professionals might need to treat those who are sick or injured.
6. Training Facilities
ISO containers can be used as training facilities for emergency responders and the military. Their sturdy structure and spacious interior make them ideal for training purposes. Teams can customize them to imitate various scenarios. These containers offer an inexpensive way for firefighters, paramedics and military personnel to get the training they need.
7. Schools
In locations where communities can't afford to build brick-and-mortar schools, containers can become classrooms. The goal is that the shipping container is just the first step in building a full school. As the community works toward constructing a building, they can use containers as a temporary yet reliable solution.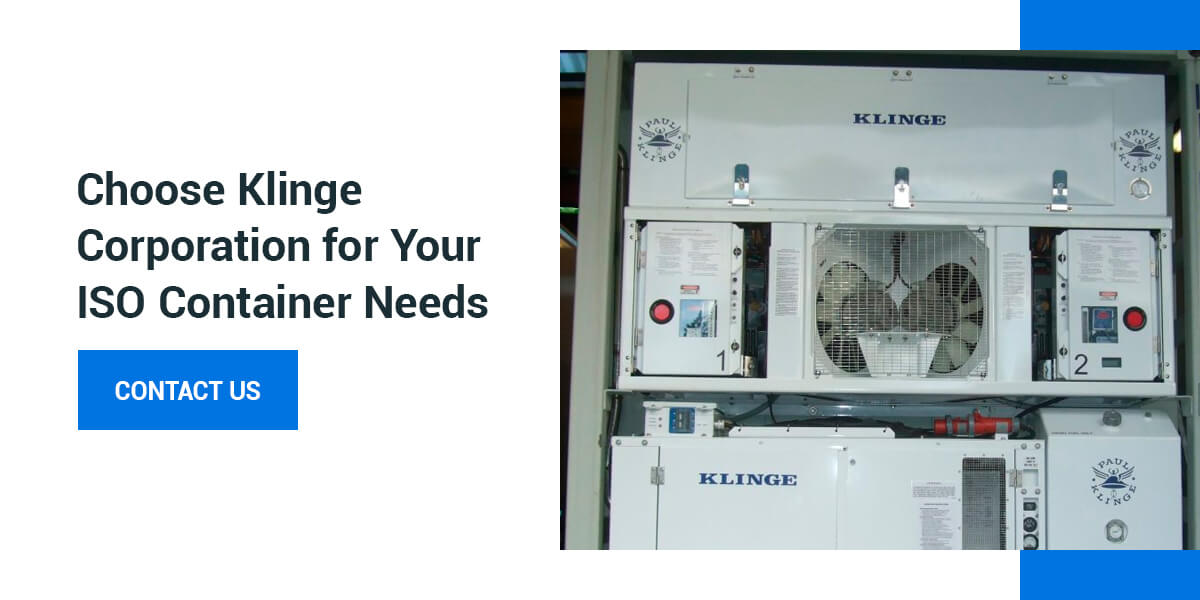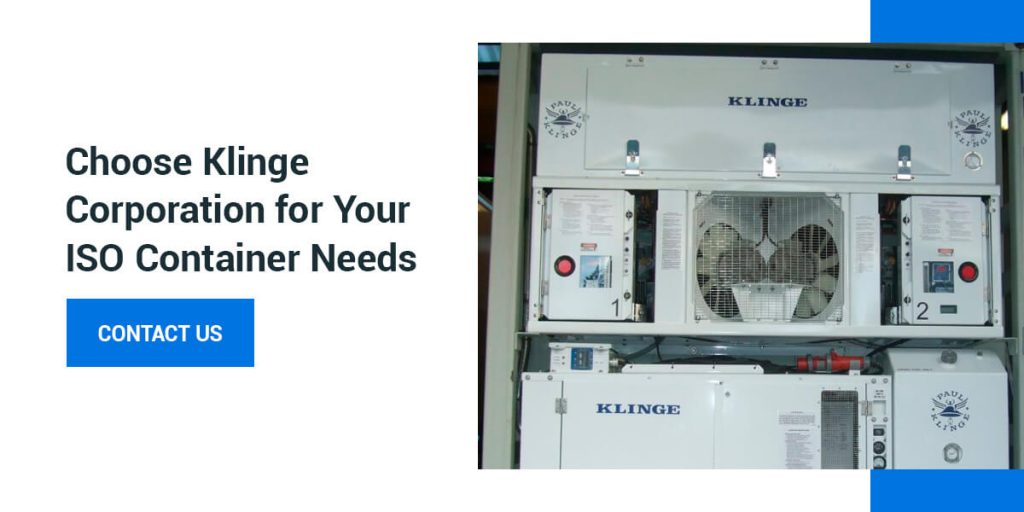 Choose Klinge Corporation for Your ISO Container Needs
Klinge Corporation is one of the world's leading manufacturers of specialized refrigerated transport containers. We serve a variety of industries with our transport container solutions:
To find out more about how our transportation solutions can serve your industry, talk to a specialist or request a quote. If you have a more specific need, check out our contact page to find the right information for who to contact.