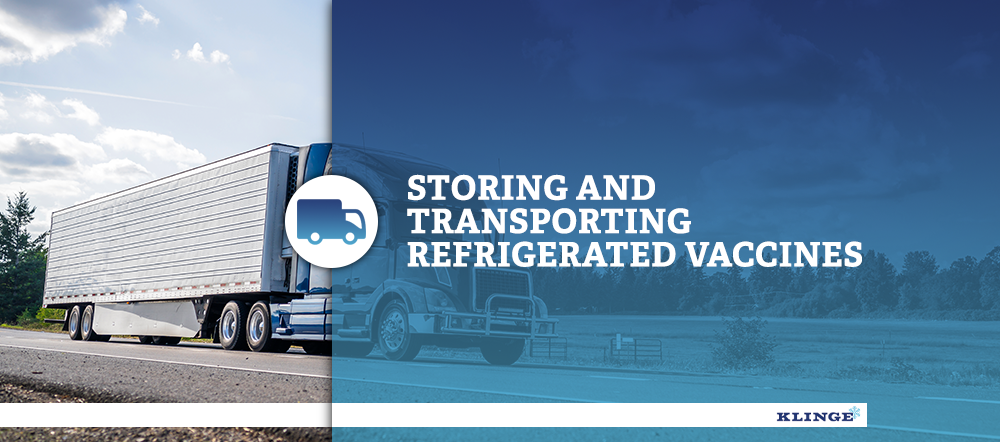 Vaccines are considered a temperature-sensitive product, and they require refrigerated vaccine transport containers and logistical planning. From vaccine manufacturing to administration, every step of the cold chain must involve temperature monitoring to ensure the vaccines are kept within a certain temperature range. A temperature deviation of just a few degrees can spoil the entire vaccine lot, causing significant revenue loss and dissatisfied customers. Damaged vaccines can also lead to lawsuits and ruined reputations.
Pharmaceutical companies face the challenge of getting their temperature-sensitive products to health care facilities intact. It takes precise vaccine packing, storing and transport methods to protect vaccines from damage, maximize revenue and meet consumer demand.
Table of Contents
How to Pack Vaccines for Transport
Safe vaccine transport requires temperature control and ensuring the vaccines are kept within a specific temperature range. Part of this process involves using the proper packing materials and methods. Careful packing can help protect vaccines against cold chain issues such as shocks, light, humidity, temperature fluctuations or time delays. Proper packing of vaccines for transport might include temperature-tracking devices, insulated containers and a coolant, such as cold packs.
According to the World Health Organization (WHO), vaccine packaging involves the following elements:
Primary packaging: The first level of packaging is the vaccine's primary container, such as a vial, ampoule or pouch.
Secondary packaging: The second level of packaging holds the vaccine vials, which may be a carton box.
Grouping case: The grouping case contains multiple units of secondary packaging.
Tertiary packaging: Tertiary packaging refers to the insulated container that holds the grouping case or secondary packages and cooling packs. The insulated container may then go inside a corrugated box.
Different vaccines have various temperature requirements that must be considered throughout the cold chain. For example, according to WHO, the measles vaccine is regarded as a Class B vaccine for international shipment. Class B vaccines must not be exposed to temperatures above 30 degrees Celsius inside the insulated container.
WHO also says all vaccine shipments should include temperature monitoring devices to show whether the product had been exposed to damaging temperatures. Electronic temperature monitoring devices offer the most accurate readings and should be placed inside every insulated shipping unit.
How to Safely Transport Vaccines
How are vaccines transported without losing their potency? Besides insulated packaging, refrigerated transport containers are vital to preserving vaccines as they travel from one point to the next.
Temperature-controlled vaccine transport containers are considered an active packaging system, meaning they ensure products are constantly kept at the optimal temperature. Most cold chain products, such as vaccines, need to be held at temperatures between 2 degrees and 8 degrees Celsius. Some vaccines require cryogenic temperatures as low as -150 degrees Celsius.
When transporting refrigerated vaccines via ground shipment, WHO recommends following these steps on shipping day to keep the product safe:
Pack the vaccines in the correct tertiary packaging and attach temperature monitoring devices.
Keep the vaccines properly stored until the time of dispatch.
Before loading the vaccines, make sure the transport vehicle's temperature controller is set to the correct temperature and ensure the monitoring devices work properly.
Check the vehicle's refrigeration unit to ensure proper operation, keeping the loading doors closed.
Load the vaccines quickly and avoid overloading the unit.
Leave room for air circulation around all sides of the product.
Block and brace the cargo with pallets, spacer blocks and restraining straps to keep it from damage during transit.
Close and lock doors.
Give instructions to the driver regarding temperature, handling and transport requirements along with emergency contact information.
During transportation, its critical cooling units remain active throughout the entire trip, including during breaks, and the driver should not use energy-saving modes. Vaccines should also travel by the fastest, most direct route if possible.

CDC Vaccine Transport and Storage Guidelines
The Centers for Disease Control and Prevention (CDC) provide guidelines for proper vaccine storage and transportation. Although these guidelines mainly apply to health care providers receiving a vaccine delivery, they can help any link in the cold chain, including manufacturers and distributors. According to the CDC, an effective cold chain requires the following elements:
Adequate staff training
Dependable temperature monitoring equipment and storage
Precise vaccine inventory management.
The CDC also provides tips for proper storage, which any facility can apply. These include:
Do not overfill storage units with vaccines.
Ensure good air circulation around the outside of the storage unit and the vaccines themselves.
Never store food or beverages with vaccines.
Routinely maintain all storage units and related equipment to ensure maximum efficiency.
If possible, use a digital data logger for each vaccine storage or transport unit.
A digital data logger is a specific type of temperature monitoring device. It provides the most accurate information about the storage unit's temperature and how long it's been operating outside of the required range, if applicable.
Regarding transport, the CDC provides guidelines for moving vaccines between providers or other locations. These guidelines are meant to help facilities transport vaccines over a short distance:
Only transport vaccines using packing materials that offer maximum protection.
If the facility receiving the vaccine does not have appropriate storage, deliver the vaccine in a portable vaccine refrigerator or qualified container along with a temperature monitoring device.
Do not reuse the same materials the vaccines were initially shipped in.
Consider renting a refrigerated truck if you need to transport a large number of vaccines or need to send them over an extended distance.
Only open transport unit doors when necessary.
As soon as vaccines arrive at their destination, they should be placed in an appropriate storage unit with a temperature monitoring device.
What Are the Best Containers for Vaccine Transport?
To ensure vaccines are kept within the required temperature range during transport, vaccine manufacturers and distributors must use refrigerated containers. Temperature-controlled, refrigerated ISO containers are ideal for transporting delicate vaccines. These insulated units are specifically designed to enable temperature-controlled air circulation and are equipped with sensors to detect small temperature variations. This allows the shipper to monitor their products' condition throughout the journey and maintain a safe, consistent temperature regardless of the weather outside.
At Klinge Corporation, we manufacture dual redundant refrigerated containers with back-up power supplies to prevent temperature excursions and protect valuable cargo. Our refrigerated shipping containers can also be used as reliable storage units for pharmaceutical products.
For example, our Dual Redundant Refrigeration Unit and Integral Genset offers two full-capacity reefer units, each with their own thermostat and control circuit to ensure you have power in case of failure. It also features a built-in high-temperature alarm and remote monitoring options to help you protect your products. This model can be used to store and transport vaccines that require a temperature range between 2 degrees and 25 degrees Celsius.
Klinge Corporation also provides systems for storage in temperature ranges from -5°C to -29°C and from -20°C to -70°C, all available as dual-redundant systems with built-in power back-up, as well. 
Additional Klinge Refrigeration Units for the Pharmaceutical Industry:

Solutions for Cold Chain Vaccine Transportation
Refrigerated shipping containers designed for vaccine transport can help your company comply with relevant laws and regulations, prevent revenue loss and deliver a high-quality product to consumers. At Klinge Corporation, we have specialized ISO refrigerated containers and generator sets to meet your vaccine transport and storage needs.
To learn more about our refrigerated shipping containers for the pharmaceutical industry, talk to one of our specialists, request a quote or call us at 1-717-840-4500.