Industry experts came together at Logipharma in Lyon, France, in April 2023 to share best practices and discuss emerging trends in pharmaceutical logistics. In particular, this year's event included a very exciting session titled "Embracing the Sea Freight Opportunity: How can you overcome recent disruption to drive cost-reduction, reliability, and sustainability."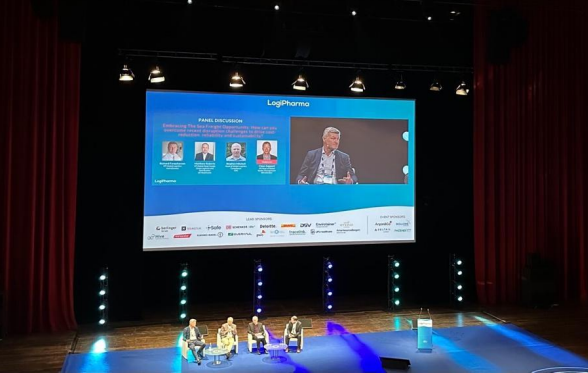 The session was moderated by Claus Aagaard (VP Head of Global Reefer Management, DB Schenker) and included industry leaders, Richard Farquharson (VP Global Logistics, AstraZeneca), Stephen Mitchell (Quality and Compliance Manager, GSK), and Matthew Roberts (VP Global Head Supply Chain Logistics and Distribution, GE Healthcare).
The Centre de Congrès de Lyon, France, and the beautiful city of Lyon provided a perfect backdrop for the more than 1,000 attendees at this year's Logipharma and the session on sea freight, more specifically.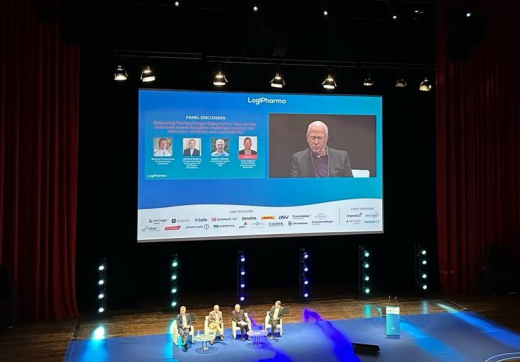 The discussion began with Mr. Mitchell of GSK noting that overall, GSK had seen a reduction of issues on sea versus other modes of transport. Matthew Roberts from GE Healthcare painted an even clearer picture, noting that 50% of observed temp issues for their company were seen when using air transport, with 40% by road and only 10% by sea. Richard Farquharson of AstraZeneca agreed these reductions in temperature excursions were also being seen in their own supply chains and moderator Aagaard also agreed this had been the general experience for DB Schenker, as well.
The experts also made the point that the extra inventory needed for sea-freight due to longer shipping times than air freight is a much lower cost than the savings achieved on sea freight, with Mr. Farquharson (AstraZeneca) noting that the inventory in containers on the ocean should be considered more as "safety stock, rather than stock in transit" as other shipments could be sent via air to supplement any increases in demand.
Mr. Farquharson went on to note that insurance costs could be a concern and that self-insurance may be needed, but that this possible insurance risk had to be balanced with the overall lower risk via sea-freight and the savings achieved, to which Mr. Roberts of GE also agreed.
It was also noted that co-filling could help to reduce insurance risk by reducing the total value per company in each shipment. Mr. Aagaard (DB Schenker) agreed and stated that the less-than-container load (LCL) option is more likely to work in pharma than in other industries since the temperatures are normally quite standard across different product ranges. Mr. Mitchell (GSK) then said that from an operational side, there was no problem with co-shipping, but that Quality teams may raise issues, which could be overcome, in his opinion. Mr. Aagaard pointed out that the team at DB would of course support co-shipping options, to which Mr. Mitchell replied that co-shipping could also be a benefit in combatting supply chain disruption.
(As an aside and in discussions following the presentation it was noted that LCL shipments in fact have been done for decades when for example multiple pharmaceutical shipments are loaded onboard one plane, one train or one truck. And that the larger the shipments the more resilience the additional thermal mass is providing to minimize temperature swings.)
The next topic turned to product value, where Mr. Farquharson of AstraZeneca said that this did have an impact on modal selection (air vs. sea), but that they were planning soon to investigate shipment of higher-value biologics by sea. In this case, Mr. Farquharson noted that co-loading could also help in this case to reduce risk, and later also stated that co-shipping could also occur within one's own company, with possible road or air distribution needed for the final leg of these journeys.
Mr. Roberts of GE also commented that the choice of going with sea shipment instead of air shipment was not "just a logistics decision, but needed to involve all departments." And went on to say that it was also helpful in this decision-making process if it was a requirement for each department to report their own emissions, so that decisions could be made based on this data. Mr. Farquharson of AstraZeneca agreed and stated they had determined that carbon emissions per kilo of product per kilometer of transport when shipping by sea were just 1% of the carbon emissions when shipping by air.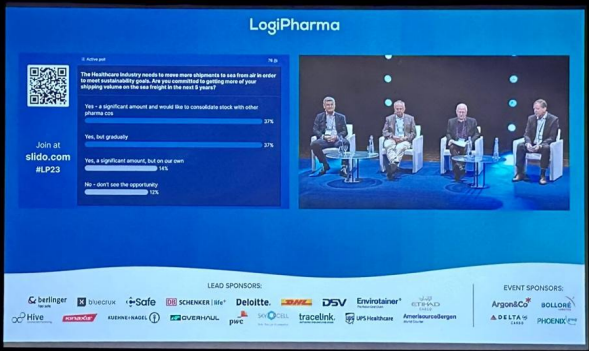 Mr. Aagaard (DB Schenker) went on to say that it was most optimal to create a combined view of all shipments to best gauge the right mode of transport, to which Mr. Roberts replied that all shipments should be review to understand the best mode of transport and that the Logistics Service Providers (LSPs) are "there to ship products to patients." Mr. Mitchell of GSK agreed and said that the freight forwarders needed to keep in mind that the shipments are patient focused.
As a final closing point, an anonymous, instant poll was conducted of attendees where the question was asked how much of the products currently being shipped by companies were being shipped by ocean. The response was surprising with 41% of respondents noting they shipped 0-20% of their products by ocean, but also as per Mr. Aagaard of DB Schenker, these statistics provided a lot of room to grow. Mr. Roberts of GE concurred, and also noted that every company has to make the final decision based on the best quality and cost options, but that in terms of on-time shipment, his company had not missed a container shipment in 2.5 years as they were providing multiple months of lead time for such shipments.
Mr. Farquharson of AstraZeneca agreed and noted that planning was key, and that if your "Business as Usual" (BAU) is ocean freight, you also at last have an option to expedite, but with airfreight this option did not exist. He finished once again emphasizing that AstraZeneca had far fewer issues on ocean rather than when shipping by air.