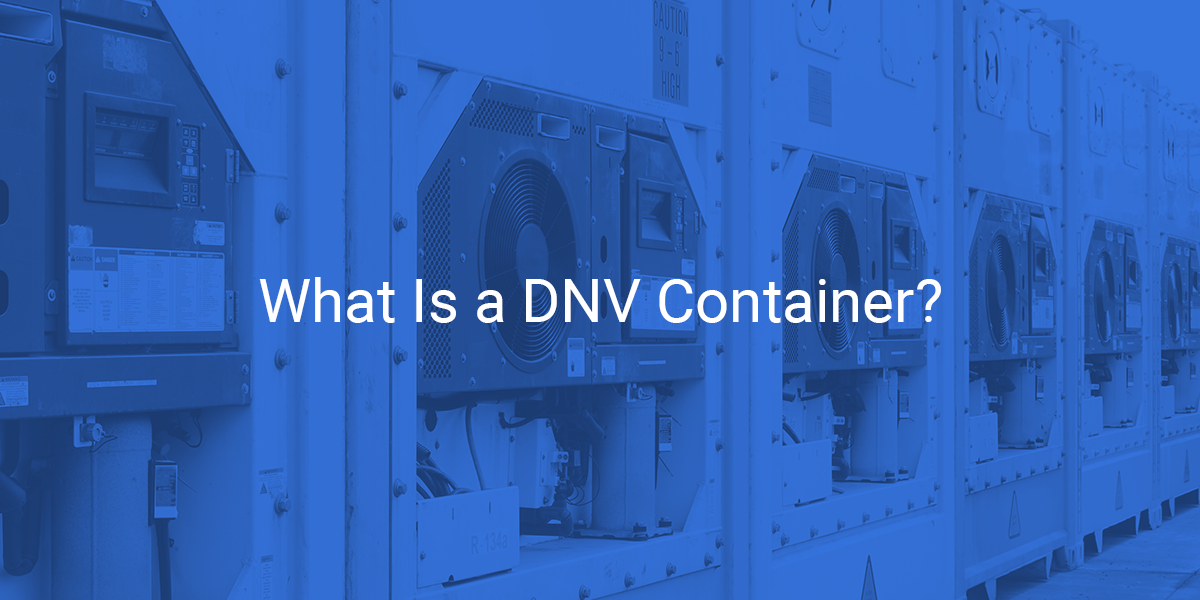 A DNV shipping container is able to withstand the harsh environments and handling of the offshore industry. It's suitable for the oil and gas industry because of its safety and efficiency. DNV containers go through rigorous certification to ensure their durability against harsh weather conditions and rough handling. As opposed to ISO containers, they have a more flexible design to contain the products for your unique application.
Explore more about these containers to find out if they're the right fit for your shipping needs.
Talk to a Specialist
What Is a DNV Shipping Container?
DNV stands for Det Norske Veritas, an independent and autonomous foundation that strives to safeguard life, property and the environment on shore and at sea. A DNV shipping container, or offshore container, is a certified oil and gas industry container. You can use this portable unit more than once, which increases its value and usability.
When transporting temperature-controlled products to a rig or FPSO (or when storing product on-site), you need the container to withstand rough weather and motion. Because the oil industry can present certain dangers, DNV containers must adhere to safety regulations to become certified for working for oil rigs, oil tankers and the environment.
There are three prominent types of DNV shipping containers:
Offshore freight containers are suitable for carrying large goods and cargo.
Offshore service containers are customizable for a specific task, such as a control station, lab, power plant or workshop.
Offshore waste skip containers have an open or closed top and are suitable for holding waste.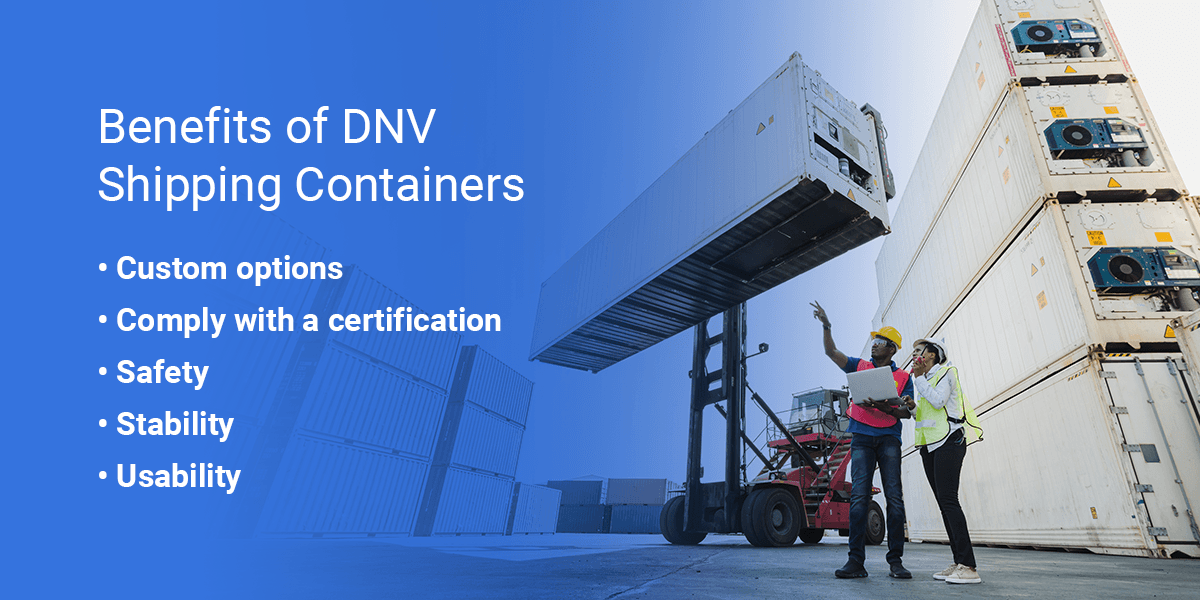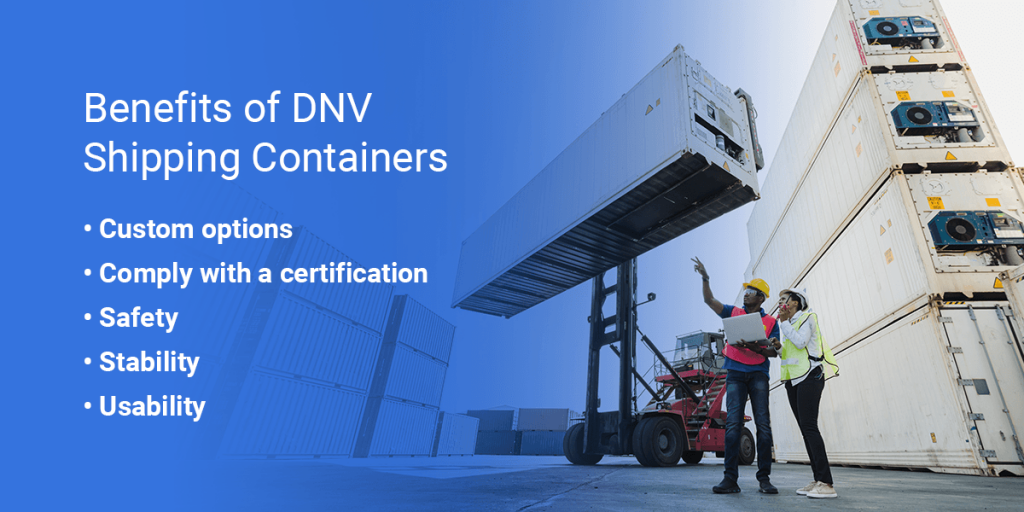 Benefits of DNV Shipping Containers
DNV shipping containers are ideal for the oil and gas industry to suit your specific application. They offer the following advantages:
Custom options: DNV containers come in various sizes, shapes and materials to fit the items you need to ship. You can design your DNV container according to the specifications you need to transport your goods. Some DNV containers also come with features such as electrical connections, lighting and switches.
Comply with a certification: If you need to transport goods on open seas to oil rigs or FPSO's or store them on-board, you'll need to use shipping containers that comply with regulations for offshore applications and container vessels. Since DNV containers are certified according to DNV 2.7-1 and ISO standards, you can use them onshore and offshore.
Safety: DNV containers usually have supplied certified lifting slings and shackles, which allows the crew to carry the container from the vessel to the platform safely.
Stability: DNV containers can withstand the elements of the open seas, protecting your goods from loss or damage. Since they're sturdy and made of the utmost quality, you can guarantee delivery to your customers and enhance your company's reputation.
Usability: You can also get DNV shipping containers with forklift pockets and other equipment that allow you to reach and move them conveniently.
Talk to a Specialist
The DNV Container Certification Process
DNV containers must be certified according to DNV 2.7-1 standards for offshore transport. A DNV container has to go through a rigorous process to become certified, where auditors perform the following checks:
Examine the container's design: Since you can order these containers in various sizes and configurations, auditors start the certification process by creating a thorough design appraisal. During this time, they'll consider different factors in the container's design that affect its performance, such as its sealant materials, dimensions, welding methods and load ratings. The manufacturing team must comply with the appraisal for the DNV container to be certified.
Survey the manufacturing process: After creating a design appraisal, the auditors monitor the manufacturing process to ensure that the qualified workers are doing everything according to the appropriate procedures.
Inspect and test a prototype: The last step of DNV certification for containers is when the auditors inspect the prototype to ensure it complies with the original design appraisal. During this inspection, the auditor performs impact, lift and tilt tests to check its safety.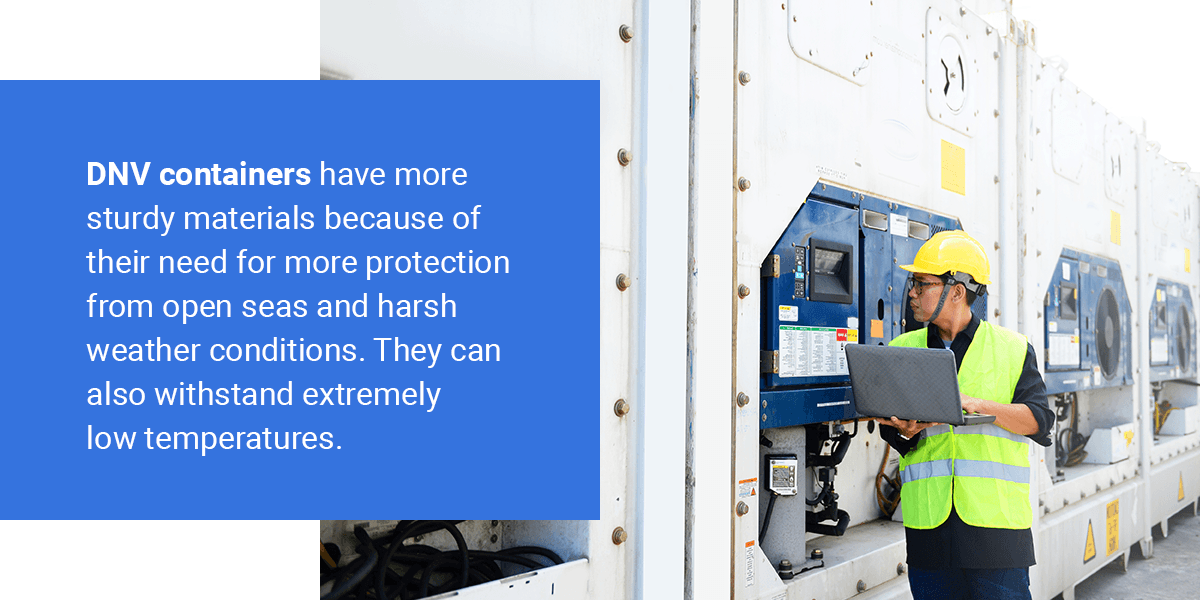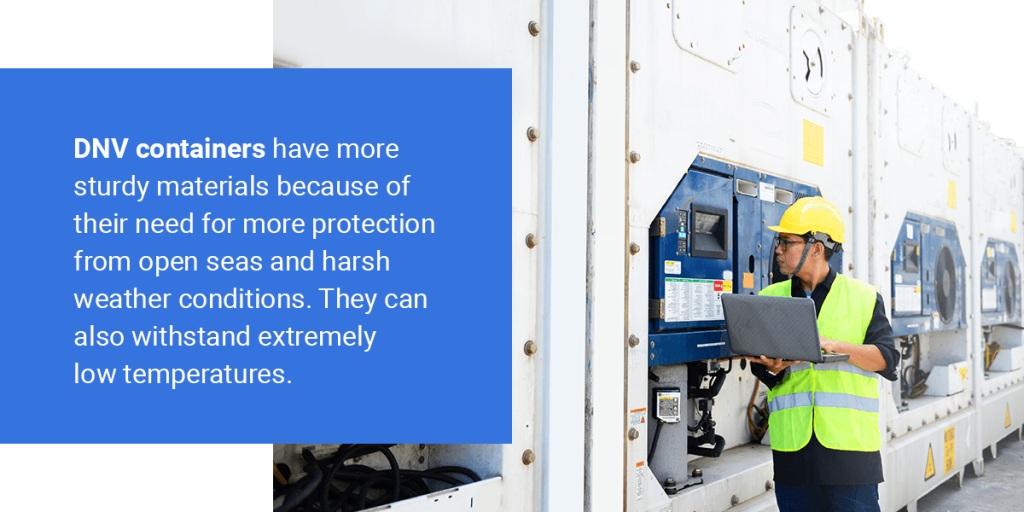 DNV Containers vs. ISO Containers
ISO containers comply with the International Organization for Standardization (ISO) standards for transporting hazardous and non-hazardous liquids. On the other hand, DNV shipping containers are certified to ISO and DNV 2.7-1 to ensure their ability to transport and store goods safely offshore.
DNV offshore shipping containers are different from ISO containers in the following ways:
1. Exposure to Harsh Environments
Offshore containers are more durable than ISO containers in harsher operating conditions. ISO containers feature corrosion-resistant stainless steel, which makes them suitable for marine transport. On the other hand, DNV containers have more sturdy materials because of their need for more protection from harsh handling and weather conditions.
A DNV container's durability is the most noticeable difference between ISO and DNV container specifications. This container must be sturdy to get certified according to DNV 2.7-1 standards. Since the oil and gas industry uses it for offshore applications, it must withstand extreme environmental conditions and handling.
2. Loading and Unloading Forces
Both ISO and DNV containers can handle various loading and unloading forces. An ISO container has a shell construction that's only suitable for lower-impact loads. It also doesn't have pad eyes, so you can't attach a rope to transport it from the vessel to the platform. On the other hand, you can use a spreader beam or crane to lift an ISO container.
Although you can't transport it with a spreader beam or crane, an offshore container comes with a permanently installed sling set for convenient transport. Most DNV containers don't have corner castings, but you'll have to load or unload them through other means, even if they do.
3. Designs
ISO containers are made in standardized configurations and sizes to allow them to move quickly through the supply chain. Offshore containers have a specific design according to each unique application. You can get them in custom sizes and specifications according to what you need for your operation. In particular, DNV 2.7-1 offshore containers have a design that suits a high dynamic load.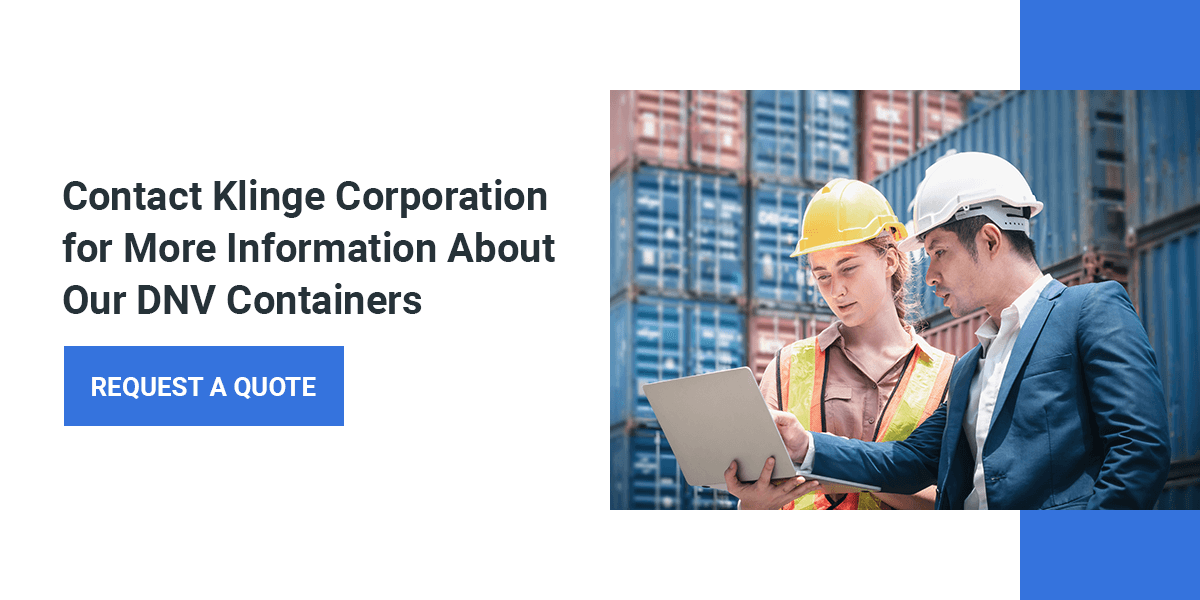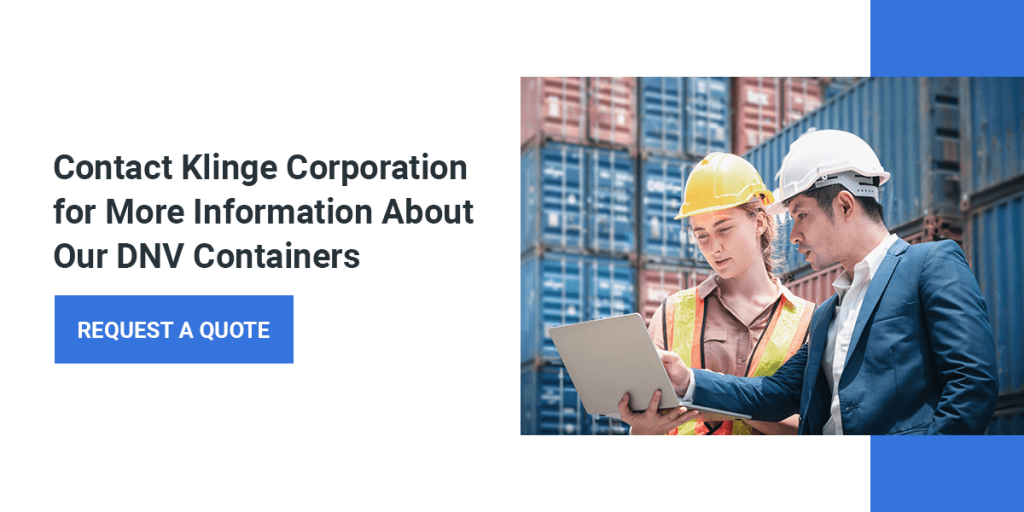 Contact Klinge Corporation for More Information About Our Refrigerated DNV Containers
Klinge Corporation's Offshore Refrigerated Units are compliant with DNV 2.7-1 certification to ensure safety, stability and usability for the global offshore oil and gas industry. If you need to transport cargo, waste or a product unique to your application, you can request a quote for the exact size and configuration you need. For more information about our products, you can also reach out to a specialist or call 717-840-4500.
Talk to a Specialist